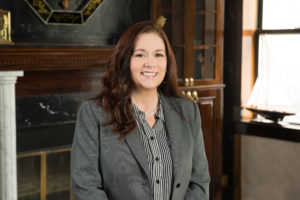 Michelle Parker of The Decker Law Firm will be inaugurated as president of the Virginia Women Attorneys Association this Saturday, June 17th. Parker, an eight-year member of the association, will follow in the footsteps of Joan C. McKenna, who recommended Parker for the position.
Founded in 1981, the VWAA hosts eight chapters throughout Virginia in Richmond, Fredericksburg, Loudoun County, Prince William County, Roanoke, the Northern Shenandoah Valley, Northern Virginia, and Hampton Roads — where Parker has served as chapter president since July 1, 2015. Parker will now oversee operations for all of these chapters.
While Hampton Roads chapter president of the VWAA, Parker organized and participated in events such as: the "Pink in the Rink" night to benefit the Susan G. Komen Tidewater Chapter, the Adopt-A-Student project which equips children with school supplies each year, the Foster Care Holiday Project, and the Susan G. Komen Race for the Cure and CHKD Run/Walk for Kids, as well as several events at Regent University School of Law to promote female attorney membership in the area.
The VWAA works to provide education and training for women attorneys for the purpose of improving and developing their capabilities, and to instruct the public on subjects relating to the law and the role of women attorneys in their communities. In furtherance of that stated purpose, the VWAA reaches out to law school students and offers free membership through their first year of practice.
As an attorney at The Decker Law Firm, Parker concentrates on personal injury law, wills, trusts and estates, corporate law, and criminal defense law. She regularly handles civil, probate, and traffic cases throughout the seven cities of Greater Hampton Roads.
Parker is driven by a "desire and genuine hope that I can help people during very difficult times in their lives.  I hope that my legal assistance will make their lives better in some way," she remarked when asked about her passion for law.
She attended the Regent University School of Law where she was a member of the Trial Practice Association, serving as its co-chair in her final year. Parker is a member of several civic organizations, including the American Inns of Court, Relay for Life, and the Virginia Beach Bar Association.