Cars kill more than 3,000 people every day. In a collision involving a motorist and a bicyclist, the bicyclist is far more likely to sustain life-threatening injuries. Each year, nearly 800 bicyclists are killed in traffic accidents in the United States. This means there's an average of two fatal bike accidents per day. Whether you're a motorist or a bicyclist, you should to be aware the reasons bicycle accidents occur. Being informed can help you make safer choices as you share the road. Check out this guide to understanding what to do after a bicycle accident and how to avoid them.
The Cause
Bicycle accidents in general are declining. As cities encourage drivers to share the road, cyclists have more amenities like dedicated lanes and secure bike storages in public spaces. Still, in 2015, there were around 45,000 reported bike accidents. This means that bike accidents are still a major problem and that anyone planning to ride on city streets like Norfolk & Virginia Beach need to understand the different causes.
Here are a few common reasons bike accidents happen:
Driver Inattention
How many times have you arrived at a stoplight or stop sign only to see the driver next to you or in front of you texting on his phone or reaching below the seat? Motorist inattention is one of the most frequent causes of a bicycle accident.
A motorist who can't see or hear an approaching bicycle can't take the steps to yield or make space for an approaching cyclist. These two dangers present a cyclist with two bad choices: stop suddenly or run off the road.
Riding At Night
Casual bicyclists might not want to invest money in gear with flashy colors and material. But apparel designed for cyclists can include safety features that keep you safe when riding at night. More than half of bicycle accidents happen at night when motorists have a harder time seeing you. Reflective surfaces designed to be seen at a distance make a major difference to motorists. Don't assume motorists see you. Wear proper reflective gear and stay out of vehicle blind spots when possible.
Road Conditions
Sometimes despite the city's best intentions, roadways are not in any condition for a motorist let alone a bicycle. It's estimated that 13% of bike accidents are because of poor road conditions. In these situations, there's little you can do to prevent the bike accident beyond avoiding the route altogether.
Prevention
As the saying goes, an ounce of prevention is worth a pound of cure. Here are a few easy tips which may help you avoid being in a bicycle accident:
For Cyclists:
Add a bell and light to your bicycle
Wear reflective surfaces when riding at night
Avoid known routes with poor road conditions
Add reflective stickers to your bike
Don't wear headphones while riding
For Motorists:
Yield to cyclists when driving
Avoid distracted driving
Keep music volume low
These are just a few ways to avoid a bicycle accident. One of the biggest steps for motorists and cyclists is getting educated. New situations happen on the road every day and bicycle safety courses can help build a universal understanding of how to handle them. Take a bicycle safety course online or review Virginia's Bicycle Rules of the Road. As the number of cyclists grows in major cities, proper education helps to ensure fewer fatalities and legal trouble for drivers.
Bike Accident Injuries
Bicyclists are far more likely than motorists to suffer from multiple injuries after an accident. These injuries may or may not require hospitalization but emergency services should always be called. Never attempt to treat an injury yourself before dialing 911. Over half a million people visit the emergency room each year with bike-related injuries which means the hospital is well equipped to respond faster and more professionally to any issues.
Here are the most common types of injuries that happen during a bicycle accident:
Road Rash
One of the most common types of injuries from a bicycle accident is road rash or skin abrasions. These range in severity from a light scrape to full removal of skin layers. Road rash is more likely to happen where skin is exposed, but scrapes can occur when the cyclist is wearing thin fabric or when clothes rip during an accident.
Foot/Ankle/Knee
Broken or twisted feet, ankles or knees happen in accidents depending on where the cyclist falls during the accident. This injury is more likely to affect both legs when cyclists are hit by a motor vehicle than from falling off a bike.
Rib & Pelvic Fractures
Rib and pelvic fractures are common for on-road cyclists traveling at high speeds. A collision with a car impacts the rider's torso leading to fractured bones. A fall from a bike at lower speeds might yield the same injury but is less likely.
Head Trauma
Not wearing a helmet is a common reason for head trauma. Bike helmets are designed to sustain substantial collisions and should be used especially when sharing the road with vehicles.
Neck Trauma
Neck trauma is another injury that comes from heavy impact either from getting hit by a vehicle or being thrown from your bike onto concrete. A helmet may or may not influence the outcome of neck trauma depending on the nature of the accident.
Who's at Fault?
There are a variety of scenarios where blame can go either way. To determine who's at fault in your car-bike accident contact us and consider whether the following situations apply to you:
Side-of-the-Road Accidents
Cyclists are required by side-of-the-road laws to ride on the far right side of the road or in a bike lane if one is available. This makes them vulnerable to accidents that happen specifically because they are riding close to parked cars and turning lanes. One of those accidents is getting hit by an opening car door. In this situation, the person opening the door is usually at fault. The person in the car is responsible for checking the surrounding streets to be sure they are opening the door at the safest possible moment. If there's an approaching bicycle, the conditions are not safe to open a door.
A second side-of-the-road accident occurs when the bike is sideswiped by a car or truck. In this case, the car is also usually at fault for not making space for the biker. There are a few scenarios where there is no space for both a car and bike. These conditions might be unique to a specific roadway and photos of the area as well as the position of the vehicles can help a court determine who was at fault. Often, if there was a safe opportunity for the car to yield, the car is assumed to be at fault.
The last common side-of-the-road accident is when a cyclist gets hit by a car making a right turn. Because cyclists are required to use this lane, it's up to the motorist to make sure the lane is clear before making a right turn. The cyclist has no other place to turn to avoid the turning car so they are not at fault for the accident.
Failure to Follow Traffic Rules
A cyclist is commonly at fault when he or she decides to ignore traffic rules. Cyclists are responsible for signaling when making a turn, stopping at red lights and being visible to approaching cars at night. Failing to obey laws governing the operation of bicycles can make you at fault for a car-bike accident.
Virginia Road Rules
In the state of Virginia, cars are required when overtaking a bicycle, to pass at a reasonable speed at least three feet to the left of the overtaken bicycle. In general, Virginia cyclists are subject to the same traffic laws as cars which includes stopping at intersections and signaling when turning. As long as these traffic rules are followed, you are less likely to be found at fault during a car-bike accident.
After the Accident
Getting into an accident is scary. If you're the cyclist hit by a car, you might be in shock even if you don't suffer major injuries. Your instincts might tell you to get out of the bad situation right away. For motorists and cyclists, this could be a big mistake. Take the following steps if you are involved in a bicycle accident with a car:
Call 911
The first thing to do is call 911. You want emergency services at the scene of the accident right away. Often, cyclists think they feel fine after an accident but begin feeling the impact hours later. No matter your opinion, it's best to get any medical assumptions backed by a professional so any injuries you suffer are in writing.
Contact an Attorney
Consulting with an attorney is key. Your insurance company might have complex rules and regulations that an experienced attorney can help you navigate. An attorney can also consult with you on the details of the bicycle accident to be sure you have all the facts you need to file a complete police report. Unfortunately, the police report can only be made on-site which means you need to recall the most important information for your case.
Take Photos
Small details matter and can make a huge difference in the outcome of your case. Take photos of the scene of the accident to gather any evidence that might be needed later. Just because you see no reason for a lawsuit doesn't mean the other party or his insurance company won't open a case. Photos help you recall information weeks or months later when your insurance company calls with questions.
Don't Clean Up
If your bicycle is broken, don't attempt to fix it or clean up the area around the accident. Wait for the police to arrive and record the details of the scene.
Exchange Information with Other Party
Getting contact information from the other party involved in the accident can be extremely helpful. Write down his or her license plate number. Ask for a contact number to reach them in case your insurance company has questions later. Never attempt to resolve the accident with them directly.
Avoid getting into details about who was at fault or apologizing which can sometimes be seen later as an admission of guilt. Stick to the facts and gather your team so you can later go through the details of what happened with people who are working on your behalf.
Tell Your Side of the Story
No matter whether you're the cyclist or motorist, your side of the story needs to be included in the police report. The police report is an official document that can help insurance companies and the court determine who is at fault in an accident.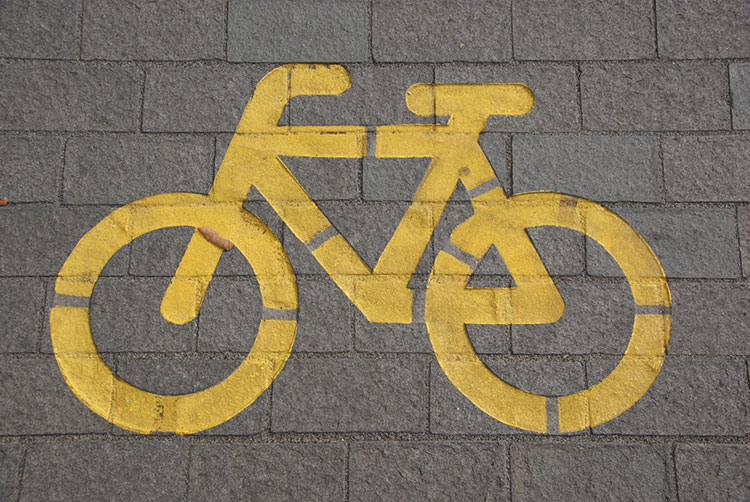 Bottom Line
It's challenging to navigate the legal system after a bicycle accident. As a cyclist in the state of Virginia, you have the same rights as motorists.
Speaking with an attorney can help you ensure you get the best treatment following an incident and protects you from potential litigation. For more information on what to do after a bicycle accident, make an appointment with one of our attorneys today.