Side impact collisions account for 24 percent of driver or passenger vehicle occupant deaths. Why is this so important? Because no one wants to risk losing their passenger on the way to a simple outing like the grocery store or a concert. Got T-boned? We've got you covered.
Usual Causes of T-Bone Accidents
What causes a T-bone accident in the first place? Also known as a broadside collision, most T-bone accident causes involve someone failing to yield to the driver that has the right of way.
Usually, one driver will accidentally make a dangerous left turn at an intersection, thinking the other car will stop at a yellow traffic light. Or in other cases, one driver might run a red light while the other driver crashes into the speeding car while trying to make a left turn. And sometimes, T-bone crashes are caused by one driver blowing through a designated stop sign.
Another big cause of T-bone accidents is driving while distracted by things like:
Texting friends or looking up directions on your smartphone.
Lack of sleep, which causes intense exhaustion and fatigue on the road.
Eating and drinking while driving on the road.
Fiddling around with the radio in your car.
And since most T-bone collisions have to do with someone failing to give the other person the right of way, or illegally driving through a red light, it can be extremely easy to find out who's responsible for the incident too.
The truth is, when your eyes and mind are not focused on your driving, then you're much more likely to be involved in a T-bone collision. On top of distracted driving, other causes of T-bone accidents include the following:
Operating a defective motor vehicle on the roads.
Driving recklessly while intoxicated with drugs and alcohol.
Although it's not as common, operating a defective motor vehicle with bad brakes or a broken steering component can also be a cause of T-bone collisions.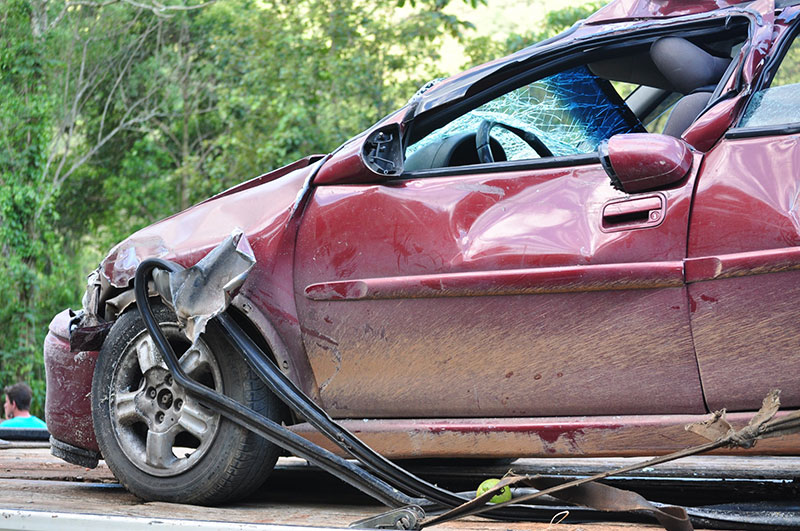 How to Avoid Being in a T-Bone Accident
Want to know how to avoid striking a vehicle causing a T-bone accident? We've got your back. Take a look at a few ways to prevent getting in a side collision.
First of all, it's essential to obey the traffic lights when you're rapidly approaching an intersection. Of course, you're going to have to make a full stop at every single stop sign too. In addition, you should start slowing down, not speeding up, when you see a yellow traffic light.
This one is a no-brainer. Stop whenever you see flashing red lights as well. Another word of advice is this: do not ever attempt to enter an intersection while hoping to turn after the traffic light has turned red. Why is that?
Because it's a much smarter idea to wait for the traffic light to tell you when to make a turn. Better yet, keep an eye out for a traffic gap before you force your way through an intersection. Also, you should never assume that the other drivers are always going to follow the traffic light laws either.
If you count on some other driver to slow at a yellow light or stop at a red light you could be making a fatal mistake. Pro tip: make sure that you check to see if the intersection is safe and cross street traffic is fully stopped before you make your move.
You should be especially cautious when you're at an intersection that is only controlled by stop signs. Again, be prepared to make any sudden stops when you're approaching an intersection. Lastly, take caution when driving on foggy days when visibility is poor.
What's the point? By driving slowly when approaching a blind corner, you could avoid an accident and a hefty ticket too. On top of that, you could even save a life!
Common Injury Types During a T-Bone Accident
Sadly, drivers are much more likely to get hurt or even killed when T-bone accidents occur. Not only is the passenger harmed, but the people on the other side of the car can be injured as well.
So, what are the most common injury types during a T-bone accident? Some of the most common injury types include the following:
Head injuries
Neck injuries
Back injuries
Pelvic, abdominal, and chest injuries
When it comes to T-bone collision-related head injuries, there are several potential outcomes such as cuts from broken glass, concussion, and severe brain trauma. In addition, getting little pieces of glass in your eyes can potentially make you go blind. Plus, head injuries dramatically change your memory, concentration, decision making, and reasoning abilities.
Now, let's talk about neck injuries. These can occur as a result of your head being snapped back from the force of the collision. Also referred to as "whiplash," neck injuries can result in herniated discs.
As for back injuries, these can include anything from herniated discs and nerve damage to spinal cord damage and persistent pain. It gets worse: chronic pain can spread from your neck to the rest of your body too. And the worst type of back injuries can end up in partial or complete paralysis.
Additionally, pelvic, abdominal, and chest injuries are a common injury from T-bone accidents, especially in bicycle and motorcycle accidents. The consequences of this type of injury include things like chest and pelvic fractures, as well as internal damage to your organs. If that's the case, you have no choice but to seek medical attention right away.
Were you or someone else injured in a T-bone accident? Are medical bills piling up? Lost wages? Make sure that you do your research before you hire your car accident lawyers!
Who's at Fault During a T-Bone Accident?
You might be wondering: who is at fault in a car accident T-bone crash? Generally, it's pretty easy to determine who's responsible for a T-bone collision. That's because this type of accident typically involves a driver making a left turn.
As a result, the driver of the vehicle that made a left turn is usually the person who's at fault for causing the T-bone accident. However, there are always exceptions to the rule. For example, if the driver that's heading straight disregards a stop sign or a red light, then they'll at least be held partially responsible for the incident.
Also, if a driver is going way over the posted speed limit, then they may also be held partially, if not fully, responsible for the T-bone collision. Additionally, drivers who are guilty of texting and driving while impaired can also legally be held responsible for the T-bone accident.
Guess what? Some traffic intersections even have special cameras to record drivers who speed through red lights. Luckily for you, this makes proving liability easier.
And if your T-bone collision occurred at an intersection, then it's highly likely that other pedestrians and drivers may have witnessed how it occurred. These witnesses could potentially give vital testimonies about what happened and who was responsible for the incident as well. But here's the catch: sometimes there are no witnesses or cameras around to see the T-bone accident.
If that's the case, then your vehicular collision could possibly end up in a "she said, he said" situation. Just make sure that you get the other driver's information and make an insurance claim as soon as you can.
Have you lost a loved one in a T-bone collision? Don't hesitate to contact a wrongful death lawyer immediately!
What to Do After Getting Into an Accident
Let's face it: it can be super confusing to figure out what to do after getting into a T-bone car accident. First things first. Try to make accurate statements when filing a compensation claim with your insurance company. Once that's done, it's time to figure out who's really responsible for the accident.
What if you feel like it's not your fault? Have no fear – you're not alone. Here's what you should do.
Depending on which state you're located in, you may have to prove who's actually responsible for your T-bone accident. For example, if you live in Arizona, you may actually receive compensation after your accident according to their "pure comparative negligence rule." So, if you're found to be 30 percent and fault, then you could potentially receive up to 70 percent in compensation in Arizona.
Can we be totally honest with you? Cases related to T-bone accidents can get complicated. That's why it's wise to talk to an expert personal injury attorney to find out what your options are. As if that's not enough, your car accident law firm can also help you create a h3 case against the other driver.
When you hire a pro attorney, they can visit the scene to investigate your traffic case as well. On top of that, they're able to do things like:
Obtain the official police report from any officers that were present on the scene.
Talk to witnesses to get a fair and accurate account of what happened.
Access the black box within your vehicle to get more data about the incident.
Plus, your personal injury lawyer can also speak to your insurance company, as well as the other driver's lawyer. That way, you can spend your free time trying to recover and heal from your accident!
Benefits of Hiring a Personal Injury Lawyer
With so many people ending up in T-bone collisions every year, it would be crazy not to hire an expert to represent you in court.
Benefits of hiring a personal injury lawyer when you've been involved in a T-bone accident include:
Filing your personal injury case for you in a court of law.
Making sure you get the highest compensation possible.
Dealing with any aggressive tactics from the other driver's insurance company.
Want to know the best part? Your attorney will only be paid if you win your case! So, if the judge rules against you in court, you won't have to pay a dime in legal fees.
Don't know where to start? Make sure that you investigate your personal injury lawyer before you hire them. If you feel like asking them any questions about their experience, you should definitely do so before you hire them.
Ideally, your personal injury attorney will give you straightforward and honest answers to all of your questions. If so, then you're most likely in good hands.
Dealing with a criminal traffic offense? We highly recommend hiring a DUI lawyer if that's the case!
Got T-Boned? Get Help Today!
Are you someone who's been in a T-bone crash? We're here to help. From finding out what causes T-bone accidents to learning how to prevent getting in one yourself, our handy guide is the ultimate T-bone collision resource. Click here to see what past clients have said about us!
For those who feel like they're not at fault, there's nothing better than hiring a personal injury lawyer to prove your point. That way, you'll receive the highest compensation possible. Bottom line: if you've been T-boned, it pays to get help today!
Need a personal injury law attorney? Give us a call to schedule a free consultation now!