Did you know that every year, more than 5,000 people die from motorcycle accidents? And, that motorcycle deaths happen 28 times more frequently than other types of fatal crashes? Even though motorcycles are fun to ride, they clearly have their dangers- especially at high speeds. Luckily, there are plenty of things you can do to ensure a safe ride on your motorcycle.
Being aware of the leading causes of motorcycle accidents is a huge part of motorcycle safety. Check out this guide to learn about the top causes of motorcycle accidents and how to prevent them.
1. Left Turning Cars
Left turning cars are the most common cause of motorcycle accidents. In fact, it accounts for almost half of all accidents involving motorcycles and cars. Basically what happens is that a car will fail to see you or judge your speed correctly as they're turning at an intersection. Or the motorcyclist will try to overtake or pass the car without the driver of the vehicle being aware of the passing motorcyclist.
These types of accidents happen between regular cars all the time. However, since motorcyclists have very little protection, these accidents become much more dangerous when they're between a car and a motorcycle.
How to Avoid This Type of Accident
There are things you can do to prevent this type of accident from happening. Simply put, the best way to avoid this type of accident is to see it coming. While this may sound unfair, it's part of your job as a motorcyclist to anticipate this especially in Virginia Beach where heavy traffic is common. In other words, you need to look for signs that someone may turn in front of you.
Signs to look out for include:
A car is at an intersection and waiting to turn
There's a traffic gap near an intersection
You see someone "inching" over in front of you
If any of these situations occur, it's best to slow down, and prepare yourself to take action. Also, remember that as a motorcyclist, you constantly need to be accounting for objects outside of your vision. Typically, a gap in traffic means you should anticipate another car coming through that gap.
When trying to avoid an accident in this situation, remember to look at the wheels of the car. This will be your first clue as to whether or not the driver is actually planning to turn in front of you. Also, try to gauge whether or not the driver can see you and how they're situated on the road, their speed. All of this will help indicate the severity of the situation.
It's also very important to pay attention to what's going on beside you and behind you. It's not good to brake in time to avoid a turning car, only to be struck by a tailgating truck. Under no circumstances should you "lay down the bike" in this situation. Instead, you should use both brakes to slow as much as possible pre-collision. Even if you only have enough time to lose 10-mph on your bike, that could mean the difference between going home with a broken arm or not going home at all.
2. Lane Switching
Lane switching is a tricky part of driving in general, so it's no wonder that this is another leading cause of motorcycle accidents. Motorcycles can easily fit into the blind spots of cars. So, if a car starts to merge into space you're already occupying, it's likely that you've been caught directly in its blind spot.
How to Avoid a Lane-Switching Accident
Have you ever seen a sticker on a semi-truck that says, "If you can't see my mirrors, I can't see you"? Well, these stickers are there for a good reason. In these situations, the truck driver is trying to alert you of their blind spot. When driving a motorcycle, you should keep this sticker in mind for all types of vehicles. In other words, if you can't see car's mirrors, (or, more specifically, the face of the driver) then the driver probably can't see you.
If you find yourself in another vehicle's blind spot, the best thing to do is to speed up or slow down to get out of it. Unfortunately, however, it isn't always easy to tell if you're in another car's blind spot. Therefore, you need to look for other signs that the car is about to change lanes.
Signs to look for include:
The turn signal is on
The wheels begin to turn
The driver turns his head (an indication that he's checking his blind spot)
The driver checks his mirrors
If you notice any of these signs, you'll need to be proactive. In other words, don't wait for the car to notice you. Instead, speed up or slow down to get out of the car's way.
3. A Car Rear Ends You
You're enjoying your ride on your motorcycle and you come to a halt at a stop sign. Then, all of a sudden, a car plows into you from behind because the driver either was not paying attention or lost control of his vehicle. This common type of car accident is also known as a "fender bender". Due to the impact of the vehicle, fender benders frequently kill motorcyclists.
Fender benders can be tricky, as they're a little harder to anticipate than a vehicle merging or a vehicle turning left. However, there are signs you can look out for.
How to Avoid a Fender Bender
It's a good practice to move to the side of your lane every time you stop whether or not there is a car coming. When pulling to the side of the lane, remember to flash your brake light by tapping your brake lever. And, remember to keep your bike in gear and to keep your right hand on the throttle.
Also, be prepared to scoot away even more if the car is coming fast. If there's bad visibility, remember that you need to be particularly aware of the traffic behind you. This is because bad visibility makes it all the more difficult for other drivers to spot your bike.
Lastly, it's important to keep in mind that motorcyclists strike cars a lot more often than cars strike motorcyclists. In fact, according to a study by the Insurance Institute for Highway Safety, in 96 percent of motorcycle crashes, the motorcycle was the striking vehicle. This means that when you're approaching intersections, you need to remember to slow down and not tail the car ahead of you.
4. Head-On Collisions
Did you know that crashes involving motorcycles and other vehicles account for 56 percent of all motorcycle-related deaths? In the majority of these cases, the car strikes the motorcycle from the front. And, it's no surprise that when head-on collisions occur, they're often fatal for the motorcyclist.
How to Avoid a Head-On Collision
So, how do you avoid head-on collisions as a motorcyclist? To avoid head-on collisions, you must remember the 4 Rs.
The 4 Rs include:
Reading the road ahead
Driving to the Right
Reducing your speed
Riding off the road
When we say reading the road, we mean that as a motorcyclist, you always need to be a proactive and defensive driver. Make it a habit to constantly scan the road in front of you, while still remaining aware of what's going on behind you and beside you.
Driving to the right means that you should always ride your bike in the right-hand lane whenever you can. If you're on a two-lane road, ride to the outside of the lane. Not only will this protect you from head-on collisions, but it'll also protect you from accidental lane changes. If you notice other cars swerving or not paying attention, you should reduce your speed. As we said earlier, slowing your motorcycle down by even just 10 mph can mean the difference between life and death.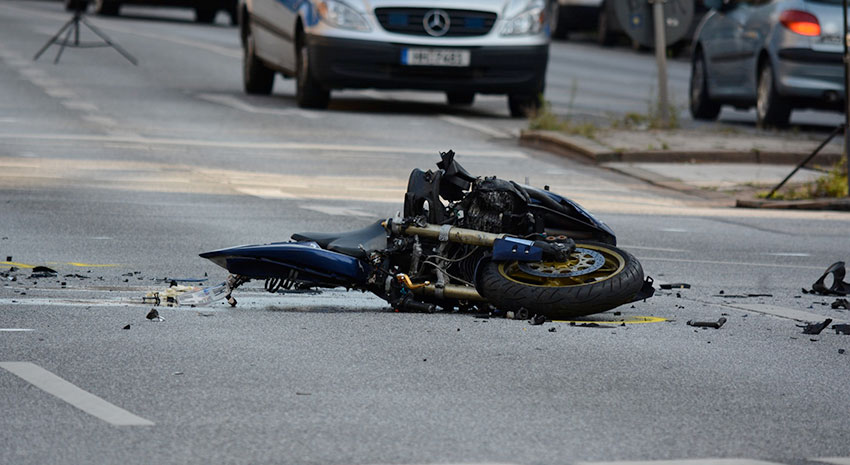 5. Lane Splitting
Lane splitting is something that many motorcyclists do. This occurs when a motorcyclist drives in between two lanes of traffic. Typically, the other vehicles are stopped or have slowed-down. This often occurs at a traffic light or at a spot where there's traffic congestion.
While lane splitting may seem like a good way to get out of traffic, it sets up a dangerous situation for accidents.
This is due to several factors:
The close proximity of the motorcycle to the car
The reduced amount of space the rider has to maneuver his bike
Cars typically don't anticipate someone passing them in slowed or stopped traffic
Cars never lane spit, so other drivers won't be expecting it
If an accident occurs when lane splitting, who's at fault will depend on where you live. This is because different states have different laws when it comes to lane splitting. In the state of Virginia, for example, lane splitting is illegal.
How to Avoid a Lane-Splitting Accident
The obvious thing to do in this situation is to avoid lane splitting altogether. However, if you're in a state that does allow lane splitting and you choose to do it, make sure there's enough room for you to get through safely without hitting anyone else's vehicle.
Also, remember to keep your eye out for gaps in stopped cars. Typically, this is a sign that another car is waiting to merge into the next lane.
6. A Car Driver Opens Their Door
You're sitting on your bike in a stationary line of traffic. To the right of you is a bunch of parked cars. You decide to go to the right to scoot by all of the traffic when all of a sudden someone in the parked car lane swings their door open and hits you.
Believe it or not, this scenario occurs a lot more often than you'd think. This is because when people are entering or leaving their cars, they're rarely if ever thinking about a motorcycle coming towards them out of nowhere.
How to Avoid Being Hit by a Door
This is another scenario where it's entirely your job to make sure the accident doesn't occur. Riding between parked cars and an active line of traffic is something you should never do. This is not just to prevent a car door from hitting your bike. By riding in between traffic and parked cars, you also risk hitting pedestrians or cyclists.
If you do find yourself in a situation where someone swings their car door open out of nowhere, brake as quickly as possible. Cyclists call the area next to parked cars "the death zone" for a reason, so avoid riding here at all costs.
7. Alcohol
Did you know that alcohol is a factor in 50 percent of all motorcycle accidents? And that 28 percent of motorcyclists killed in 2017 were drunk? Seeing how easy it is to avoid drinking and driving these days, that's a pretty sad statistic.
While there's no excuse for drinking and driving, many think that alcohol-related motorcycle crashes happen more often due to the social nature of the sport. It can be all too easy to go out for a ride with your buddies, stop for some drinks, and then bike home without realizing how intoxicated you are.
Remember that motorcycle helmets don't offer riders guaranteed protection from head injuries. (However, they did save the lives of 1,859 riders in 2016, so you should still wear one.) So, don't assume that wearing a helmet gives you an excuse to have a couple of drinks before riding.
How to Avoid an Alcohol-Related Accident
This one should be pretty obvious: Don't drink and drive! Due to the social nature of the sport, we realize this may be easier said than done. So, if you frequently go out for rides with you and your buddies, make sure you limit yourself to one drink per hour and to stop at 3 (this number may vary a bit for each person).
Or, if you really do want to ride and then have a night out drinking with your buddies, then plan ahead. Have fun on the open road and then all ride your bikes to the same location. Then, leave your bikes there overnight and get home with Uber or Lyft. Worst case scenario, you have to pay an expensive Uber ride in the morning to get back to your bike. This sounds a whole lot better than getting a DUI or getting in a fatal motorcycle accident.
Avoiding a Motorcycle Accident: Are You Ready?
With these tips in mind, it should be a lot easier to avoid a motorcycle accident. However, keep in mind that no matter how careful you are, motorcycle accidents can happen. If you've recently been in an accident and are looking to take legal action, contact The Decker Law Firm today. And, be sure to check out our about us page to learn more about our experience and qualifications or what past clients have said about us.