What Is Larceny? A Complete Explanation of the Elements of Larceny
Did you know that larceny or theft is the most common crime committed each year? In 2019, there were over 5.2 million larceny-thefts committed in the US. If you are facing theft charges, you are not alone. If you get charged with larceny or theft, there are some things you should understand about the crimes, your charges, and what the potential penalties are. Read on to learn all that you need to know about larceny and the need for a criminal defense attorney.
Elements of Larceny
The word larceny comes from the Middle English word "larcin" which means theft. Not only is the crime of larceny the most commonly committed property crime in the US, larceny also has a long history. Every jurisdiction has its own definitions of larceny or theft and their own statutes prohibiting it, which we will discuss below. However, in general, in order for larceny or theft to occur, there are certain elements that must be present.
These include the unlawful taking and carrying, leading or riding away with the property of another (either a person or business), without their consent and with the intent to deprive them of their property permanently. The FBI definition of larceny includes examples of items that could be stolen, including bicycles, car parts and accessories, retail items (shoplifting), electronics, etc.
Individual Elements of Larceny
Let's break down each of these elements of larceny:
Unlawful taking and carrying, leading, or riding away means that the items must be taken away from the rightful owner(s) and those items could be carried away, lead away (in the case of an animal, for example), or ridden away (such as a bike, ATV, watercraft, etc.).
Someone' else's property means that the item or items stolen must belong to someone other than the person taking them. Without their consent means that the offender did not have permission to take the item(s) and the intent to deprive them of the property permanently means that the offender intends to take the item away and does not plan to return it.
Types of Larceny and Theft
There are many different offenses that fall into the larceny/theft category. While most often we think of stealing something from a store or another person, the range of larceny/theft extends far beyond that.
Shoplifting
Shoplifting is the theft of items from retail stores or places selling items (e.g., a farmer's market, craft show, etc.). Shoplifting is treated these same as petty larceny in Virginia, which we will discuss below. It's important to note that the prosecutor must prove that you intended to steal the item for larceny to have occurred. If there is no intent, such as if you accidentally walked out of the store with the item and had no intent to steal it, no larceny occurred.
Concealment
You don't actually have to leave the store with the item to get charged with a crime. Concealment means you have positioned the item in such a way that you intend to take it from the store.
For example, if you remove an item from its packaging, remove the price tags, or put in your purse or under your clothing, you could face concealment charges if store personnel catch you. Putting an item in a different container could also be concealment. If you put something expensive in the container for something much less expensive, for example, you could be charged with concealment.
Altering Merchandise
Another form of retail theft is altering merchandise. This occurs when you alter a price tag or price marking so you do not have to pay full price for the merchandise. Moving a sale sticker from one item to another, switching price tags, or finding another way to alter the price tag or sticker are all considered forms of altering merchandise. If you damage merchandise in an effort to get the store to give it to you at a lower price, you could also face charges of altering merchandise.
Fraud
Although the FBI doesn't consider fraud or other financial-based crimes in its definition of larceny, at its core, fraud is stealing. Some examples include:
Forgery
Identity theft
Counterfeiting
Credit card fraud
Healthcare fraud
Workers' comp fraud
Bad checks
Money laundering
Real estate fraud
Fraud by false pretenses (could include obtaining money or a signature by false pretenses, financial exploitation of someone who is incapacitated, or unlawfully operating a parking meter, vending machine, payphone, etc.)
False representation to obtain property or credit
Counterfeit cigarettes
Fraudulent use of birth certificates
The amount of money taken during the commission of these crimes determines whether they are misdemeanors or felonies.
Larceny of a Firearm
Stealing a firearm from another person is charged as a more severe offense, grand larceny, despite the actual value of the firearm. Because of the serious nature of a firearm and the regulations surrounding owning one, this crime is charged as a more serious offense in all cases.
Larceny of Certain Animals and Poultry
In Virginia, there is a specific statute related to stealing certain animals and poultry. Stealing a dog, horse, pony, mule, steer, bull, or calf is one category. Stealing any of these animals is a felony. Stealing poultry (such as chickens or turkeys), sheep, lamb, swine, or goats is the second category. Stealing any of these animals is also a felony, but a lesser one.
Larceny of Financial Instruments
Stealing financial instruments is also a form of theft. Financial instruments are anything related to banking and financial transactions, including:
Checks
Bank notes
Papers of value
Savings bonds
Account information
The value of the fraud will determine the charges the offender faces.
Theft, or larceny, is either petit or grand larceny. This determination depends on the amount of the item stolen. Petit larceny occurs if the property taken is $5 or less (if taken from the owner's person, such as pickpocketing). Any other theft less than $1000 is also considered petit larceny.
Grand larceny is theft of anything from the owner's person that is over $5 or theft of any goods or money over $1000. As mentioned earlier, any theft of a gun or firearm is grand larceny, regardless of the value of it. The amount for grand larceny was recently raised from $500 to $1000.
The reason that the amount is so low for larceny from a person is that stealing directly from someone's person (such as pickpocketing) is considered a serious offense. Thus, the threshold for this crime to become a felony is much less than the threshold for stealing items or money from a business, location, etc. Petit larceny is a misdemeanor and grand larceny is a felony in the state of Virginia. The laws also stipulate the penalties for these crimes, which are discussed in detail below.
Defenses Against Larceny Charges
A Belief of Ownership or Right
Recall that the principles of larceny require that the item or items belong to someone else. If it's your own property, it's not larceny. For example, if you believe that you own the property or have the right to it, even if you are wrong, you could defend yourself with this argument. The burden is on you and your lawyer, though, to show that you had an honest belief that the property was yours.
Duress
Committing a crime under duress means that someone else forced you to commit the crime. If another person uses force or threat of force, blackmail, or other means to coerce you to commit a crime, you could use duress as a defense.
Entrapment
Entrapment occurs when a law enforcement officer convinces a person to commit a crime that they wouldn't otherwise commit. If a police officer gives you the idea to steal something that you didn't have any inclination of stealing before, then you could argue entrapment. Overall, it is difficult to successfully use an entrapment defense.
Consent
If you believe that you have the consent of the owner of the property to remove it, then consent could be your defense. For example, if your neighbor gives you permission to borrow a piece of lawn equipment or a tool, they can't later say that you stole it from them.
Penalties for a Larceny Conviction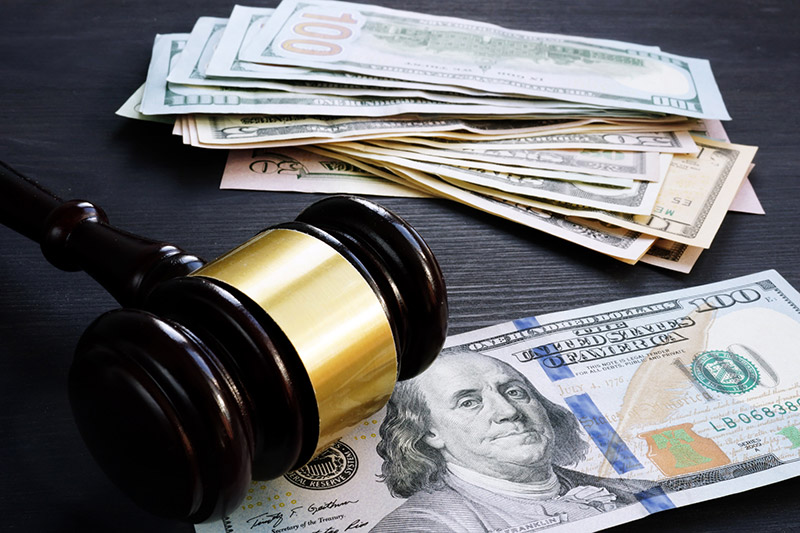 Petit larceny, because it is a lesser amount, is charged as a Class 1 misdemeanor. The potential penalties include up to 12 months in jail and up to $2,500 in fines.
Grand larceny is a felony and could result in one to 20 years in prison as well up to $2,500 fines. Stealing a firearm, regardless of value, is always considered grand larceny.
Enhanced Larceny Penalties
In addition to the standard larceny penalties, there are also enhanced penalties for repeat offense as well as stealing with the intent to sell or distribute the merchandise as well as receiving stolen merchandise. Larceny with the intent to sell or distribute items with a value over $1000 is a felony that is punishable by a minimum of two years in prison with a maximum of 20 years.
Defend Yourself Against Larceny Charges
If you are facing larceny charges in Virginia, don't try to navigate the legal process on your own. Now that you understand the elements of larceny, you can see how complicated the charges can be. Just a few dollars can be the difference between being charged with a felony or a misdemeanor and could mean the difference between a jail vs. prison sentence.
Given the complicated nature of larceny, an experienced criminal defense attorney is a smart investment to help you defend yourself against larceny charges. Contact us today for a free case consultation of your larceny case. Our experienced attorneys will review your case and discuss what we can offer you. You can even review testimonials from actual clients to learn more about how effective our services can be.