What to Do if You are Side Swiped by Another Driver
Imagine this scenario: You're going about your day, driving down the road, when another driver, who wasn't paying attention, drifts into your lane. The impact is jarring, leaving you disoriented, confused, and overwhelmed. As you assess the damage to your vehicle and potential injuries, it becomes clear that you need to take action.
In situations like these, knowing what steps to take next is crucial. That's where we come in. We're here to help you navigate the aftermath of a sideswipe accident, providing valuable insights to protect your rights and guide you toward a resolution. So, what should you do first after being side swiped? Keep reading to find out.
What is a Side Swiped Accident?
Sideswipe accidents happen when two vehicles' sides touch while driving in the same or opposite directions. Here are a few examples of side collisions:
T-bone or full-on sideswipes
Car clips your side mirror
Car scrapes against the side of your car
Car swipes your car while changing lanes
Car hits the side of your car while parking
Car strikes your car while merging
Side swiped accidents can occur between moving vehicles or when a vehicle hits a parked car or object. Even though some sideswipe accidents might seem small, they can be very dangerous and cause serious injuries or even death. Understanding the nature of these accidents is essential to stay safe on the road and protect yourself and others.
Who's at Fault During a Side Swipe Accident?
Determining fault in a side swiped accident depends on the specific circumstances. In general, the driver making an improper lane change or failing to maintain their lane is often considered at fault. However, there can be exceptions, especially when other factors come into play. For example, if the driver is heading straight and disregards a stop sign or red light, they may share partial responsibility. Don't be surprised if the other driver doesn't seem to accept blame at the accident scene. Even if they're at fault, they may be too emotional to see the situation clearly. Research shows that people respond to crises differently, and feelings often skew the ability to view fault.
What Should You Do After a Side Swipe Accident?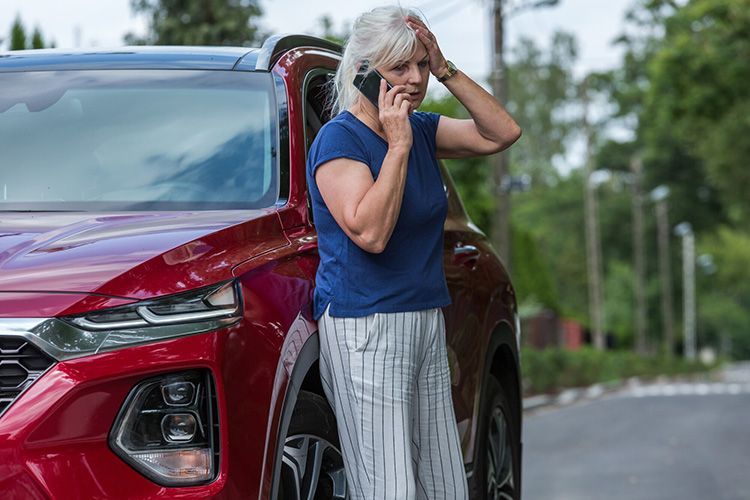 After a side swiped accident, it's crucial to prioritize your safety. If possible, move your vehicle to a safe location, and turn on hazard lights. Once you're safe, call the police, and wait for them to arrive.
Call Emergency Services
Call emergency services to report the accident, even if it seems minor. Request a police officer to come to the scene and file a police report. Don't overlook calling the cops, no matter how tempting it may be. You need to get a copy of the police report or the police report number. This report will serve as crucial documentation for insurance claims and legal proceedings.
Seek Medical Care
It's almost always wise to be transported to the hospital from the crime scene, especially for high-impact accidents. Assess yourself and others involved in the accident for injuries. If anyone requires immediate medical attention, call for an ambulance. Even if injuries seem minor, medical evaluation is advisable as some injuries may not be immediately apparent. Having a record of the hospital visit will help you when seeking damages. Make sure you tell the doctor about each and every part of your body that is injured or in pain.
Document Accident Scene
You also need to document the accident thoroughly. One of the best ways to do this is by safely taking pictures with your phone. Capture the vehicles' position and any damage they sustained. To further understand what to document, check out this guide on how lawyers calculate damages.
It's also important to note any visible road conditions. Remember to exchange contact and insurance information with the other driver(s) involved. Use the notes app on your phone or voice recording app to help you remember the details. If there are any witnesses, try to get statements from them too. Be calm when approaching witnesses, and politely ask for their contact information. These steps will help you gather the necessary evidence.
Contacting Insurance Companies and Lawyers
Did you call your insurance company yet? You or your lawyer must tell your insurer about the accident even though it's not your fault. Don't delay in calling your insurance. Report the sideswipe accident to your insurance company immediately. Provide them with accurate incident details, including the police report number. If you call Decker, we will report the accident to your insurance company for you.
Finally, if you have concerns about determining fault or need assistance in navigating the legal process, call a car accident lawyer. They can guide, protect your rights, and help you pursue legal actions. Even if you don't need counsel, free consultation is still wise. you'll be able to learn whether or not you have a case and the best process for moving forward.
What Happens if One of the Parties Doesn't Stop if a Side Swipe Accident Happens?
If one of the parties does not stop after a side-swipe accident, it complicates things. Failing to stop is a violation of traffic laws and may be a criminal offense. The ruling depends on the jurisdiction.
The consequences for leaving the scene of an accident can vary, but they often include penalties such as fines, license suspension, or even potential criminal charges.
Common Causes of Side Swipe Accidents
Sideswipe accidents can occur for various reasons, but many stem from driver error and negligence. Here are some common causes:
Failing to Check Blind Spots
Distracted Driving
Reckless Driving
Failure to Signal
Merging without Care
Did the driver who hit you drift out of their lane? Maybe they were distracted. Research indicates that drivers continue to engage in distracted driving, despite being aware of the associated risks. Common distractions include texting, talking on the phone, and manipulating electronic devices, which divert the driver's attention from the road and can result in unintentional drifting between lanes. Scientists studied car accidents involving older drivers and found accidents at intersections can be caused by not looking carefully. Additionally, accidents during left turns can happen when people misjudge distances. And unfortunately, drivers make these mistakes daily, regardless of age.
What Injuries Are Caused by Side Swipe Accidents?
Sideswipe accidents can result in a range of injuries, varying in severity depending on the circumstances of the collision. Common injuries include:
Head
Neck
Back
Upper body
Emotional damages
The impact of a sideswipe collision can cause head injuries, ranging from cuts and bruises to more severe traumatic brain injuries. These injuries may have long-lasting effects on cognitive abilities and require extensive medical treatment. Whiplash is a common car accident injury and other neck-related problems. The sudden jolt from a sideswipe accident can cause neck strains and back injuries. Herniated discs, spinal cord damage, and chronic pain are also common consequences of these accidents.
The force of the impact can lead to upper body injuries, such as fractured ribs, collapsed lungs, or damage to internal organs. These injuries may require immediate medical attention and can have long-term implications. Another thing to consider is the emotional and psychological toll. Being involved in a sideswipe accident can result in psychological trauma, including anxiety, depression, and post-traumatic stress disorder (PTSD). You should seek proper support and counseling if you experience emotional distress after an accident.
What Makes Side Swiping So Dangerous?
Sideswipe accidents often occur suddenly and without warning. Both drivers involved may be caught off guard, making it difficult to react and avoid further collisions or loss of control.
The unpredictability of the situation is what makes these accidents so scary. These types of accidents can lead to a chain reaction of events. The impact can cause the vehicles involved to lose control, veer off their intended path, spin, and collide with other vehicles, objects, or barriers.
Do you drive a smaller car? Then being side-swiped is even more life-threatening and serious.
When a larger vehicle, such as an SUV or truck, sideswipes a smaller passenger car, the size and weight disparity can result in more extensive damage and severe injuries for the smaller vehicle's occupants. The larger vehicle's protruding bumper or reinforced sides may contact the smaller vehicle's more vulnerable areas, such as windows and upper body structures.
Another major danger is speed. Sideswipe accidents often happen at high speeds, especially on highways. The sudden impact can leave drivers with minimal time to react, making it challenging to maintain control of their vehicles and potentially leading to further collisions or loss of control.
Navigating Fault in Lane Changes: Who is Responsible When Both Cars are Switching Lanes?
Determining fault in a sideswipe accident can sometimes be a tricky task, especially when both cars are in the process of changing lanes. Typically, the driver who initiates the lane change and collides with another vehicle is considered at fault. However, if both drivers are found to be negligent in their lane change maneuvers, they may be assigned a percentage of fault based on the circumstances of the accident.
Factors such as failure to check blind spots, failure to signal, or reckless driving behaviors can contribute to shared liability in a sideswipe accident. To avoid being stuck with the damages, gather evidence at the scene of the accident. This includes witness statements, photos, and any available surveillance footage, to help determine fault accurately.
Seeking Legal Help After a Car Accident
When you've suffered significant injuries or damages, a lawyer can help you seek fair compensation. They will work hard to ensure that you receive the financial recovery you deserve to cover your medical expenses and other losses.
If the insurance company disputes who is at fault for the accident or offers a low settlement amount, having a lawyer by your side is crucial. They'll use their legal expertise to negotiate on your behalf and ensure you receive the maximum compensation for your injuries and damages.
Legal counsel is particularly important when you need clarification about your rights and the legal process. A lawyer can guide you, explain your options, and protect your interests throughout the legal proceedings. They will be there to answer your questions, address your concerns, and provide the legal support you need.
The Need for Caution on Social Media After a Side Swipe Accident
It's important to exercise caution regarding your social media activity after a side-swipe accident. As a general rule, you should stay off of social media until your lawyer gives you the green light to resume posting. Here's why it matters:
Misinterpretation of posts
Undermining your claim
Compromising your case
Jeopardizing fair compensation
Gathering evidence against you
Disputing the severity of injuries
Potential harm to your legal rights
Risk of information misuse
Unwanted attention from opposing parties
Once you put information on your socials, it's fair game for legal battle.
Insurance Companies Monitor Social Media
Insurance companies often monitor social media accounts to gather evidence that may be used against you. Anything you post about the accident, or your injuries could be misinterpreted or used to undermine your claim. It's crucial to be mindful of the information you share and avoid discussing the specifics of the accident or any legal matters on social media platforms.
Opposing Parties Use Your Words Against You
Photos or comments about your activities following the accident can be taken out of context and used against you. Opposing parties or insurance companies may be difficult. They can argue that your injuries aren't as severe as you claim based on these posts. It's best to exercise caution and avoid sharing details that could be misconstrued or used to discredit your case.
Being mindful of your social media presence, and avoiding sharing potentially compromising information, strengthens your case. Remember, consulting with an experienced attorney can provide further guidance on navigating the legal complexities. By knowing what to do and what not to do, you can protect your interests during this challenging time.
Taking Action and Moving Forward After a Side Swipe Accident
When you're involved in a side swiped accident, it can be a frightening experience. But here's the good news: you don't have to worry. The Decker Law Firm is here to guide you through it all.
We are a trusted legal team specializing in criminal, traffic, and personal injury cases. Whether you need a strong defense or assistance with a personal injury claim, our expert attorneys are ready to help. Remember, you're not alone—we're here to support you every step of the way.
Reach out to our team to schedule your free legal consultation now.