In a single year, 2.1 million Americans visited the emergency room after a car accident. While car accidents are a leading cause of death in the US, they also leave hundreds of thousands of people with debilitating and sometimes long-term injuries.
Getting into a car accident can change your life in a number of ways. For some, it can cause driving anxiety they hadn't previously experienced. For others, it can lead to expensive medical bills and a loss of income.
If a car accident has impacted your daily life for the worse, it's time to call a car accident lawyer. We're here to explain why that is and brief car accident victims on what to expect when filing a car accident claim.
Read on to learn more about your options after someone else causes a car accident.
Why Should I Call a Lawyer After an Auto Accident?
In order to file a car accident claim, car accident victims in Virginia need to establish three distinct factors:
The car accident was caused by another driver's negligence (e.g., texting and driving or driving while intoxicated)
The victim sustained notable injuries
These injuries have created significant financial strain (e.g., medical debt and the loss of income)
This may sound straightforward, but it requires an understanding of state law and enough evidence to prove beyond a preponderance of doubt that the defendant is at fault for your current circumstances. It's also important to note that Virginia retains the harsh law of Contributory Negligence. That means that if you are found even partially responsible for the accident, you will not receive compensation.
When filing a car accident claim, you're not just filing that claim against the at-fault driver. You're filing that claim against the at-fault driver's insurance company, which will provide experienced defense lawyers. It is ideal to have an experienced car accident lawyer in your own corner who can build a strong case to maximize your compensation and protect you from any tactics the defense team uses to shift blame onto you.
What Steps Should I Take After an Auto Accident?
Car accidents are disorienting and can often send victims into shock. To the best of your ability, you should take the following steps in the immediate aftermath of a car accident:
Call 911 to report the accident
Get contact and insurance information from all involved parties
Document the scene of the accident (i.e., by taking photos and videos of the cars and surrounding area)
Seek medical attention
Contact a car accident lawyer
Even if you do not see any external signs of injury, seeking medical attention ASAP is a must. Because so many car accident victims go into shock, it's easy to overlook pain signals or signs of brain, spine, or internal injuries. Plus, to file a car accident claim, you will need thorough documentation of both your car accident injuries and the steps you're taking to achieve the best health outcome possible.
When collecting information from other involved parties, do not discuss who you believe is at fault or make any comments that could indicate that you are at fault. Before and during the claim process, do not post about the car accident, your injuries, or the case on social media. Anything you say about the accident can be picked up by the defense team and used to their advantage.
How Do I Find a Car Accident Lawyer in Virginia Beach?
Because car accidents are so common in Virginia Beach and surrounding areas, you may discover that there are many law firms offering their services for car accident claims. However, not all law firms are alike, and careful research can help you find the best option.
First, take a look at reviews and law firm testimonials to get a sense of previous clients' experiences. Pay attention to what these clients say about things like case results but also communication skills, professionalism, and dedication to each case.
Next, inquire about a free case consultation. This will give you the opportunity to review the facts of your case with an experienced lawyer and get an estimate of the value of your case and your chance of receiving compensation. It will also give you the opportunity to ask questions about:
Track record and how that's measured
Current caseload
Experience with similar cases
Experience in Virginia Beach
Tactics and communication style
The goal is to find a car accident lawyer that not only has a strong track record with cases like your own but that makes you feel comfortable and confident. A good lawyer will accommodate your needs and preferences (e.g., in-person communication vs. remote) while ensuring that you are taking all appropriate steps to maximize your settlement.
How Does Decker Handle Virginia Beach Auto Accident Cases?
The Decker Law Firm is currently celebrating our 60th anniversary of providing legal representation in both civil and criminal court in the Virginia Beach area. As a law firm that has remained in the family in many ways, we see each of our clients as an extension of the family. We prioritize compassion, care, and respect alongside legal expertise and a winning track record.
We measure success not by the cases in which our clients received compensation but in which our clients received the maximum compensation possible. As our client, you will work with one of our experienced attorneys as well as our legal team, all of whom we hire based on their shared values and commitment to justice. We oversee all communications with the defense team and provide legal advice from the moment you hire us until you've reached a settlement or taking your claim to court.
Because you must begin the personal injury claim process within two years of the accident in question (statute of limitations for personal injury lawsuits in Virginia), we try to take on as much of the mental and emotional labor as we can. This will allow you to prioritize your recovery with the ease of awareness that your case is in good hands.
Our esteemed car accident lawyers do not charge upfront fees. Instead, we will establish a contingency fee before you sign a contract to retain our services. This contingency fee will come out of your settlement, giving us a strong incentive to win.
What's the Compensation Like?
There is no one-size-fits-all answer to the question of compensation for car accident victims in Virginia. We take into consideration all damages, both tangible and intangible, to fight for the maximum compensation possible for each of our clients.
Tangible damages include (but are not limited to):
Property damage (e.g., damage to your vehicle)
Current medical bills
Future medical bills
Lost income (e.g., smaller paychecks resulting from a reduced capacity to work)
Lost financial benefits (e.g., contributions to retirement funds)
Intangible damages include (but are not limited to):
Pain and suffering
Diminished quality of life
Intangible damages are more difficult to quantify and qualify. It takes an experienced lawyer who is familiar with local case precedents to make compelling arguments for intangible damages.
What Are Some Crash Statistics in Virginia Beach?
Unfortunately, Hampton Roads had the highest number of car crashes of all metropolitan areas in Virginia in 2022. In Virginia Beach, Hampton, Norfolk, and Chesapeake, there was a crash rate of 1.8 crashes for every million miles traveled by car. While this may not sound like a lot, it comes out to thousands of car crashes in a single year.
Crash rates are often higher on the weekends and at night. Some of the leading causes of serious crashes and car crash fatalities include speeding, driving while under the influence, and failure to wear a seatbelt. The first two are clear instances of negligent or distracted driving, which can result in both criminal charges and personal injury claims.
Common Car Accident Injuries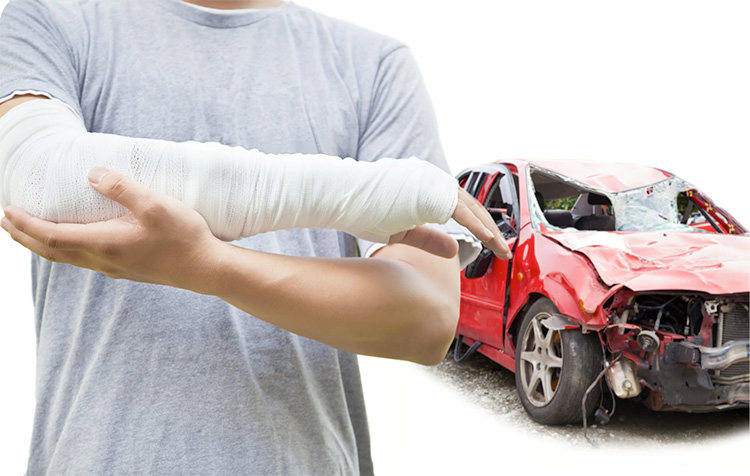 Some clients come to us unsure of whether or not their injuries constitute grounds to file a personal injury claim. While minor injuries, like bumps and bruises, won't disrupt your day-to-day, many common car accident injuries can. These include:
Contusions
Whiplash
Spinal injuries
Muscular injuries in the neck and back
Concussions
Traumatic brain injuries
Broken bones
Internal bleeding
Car accidents can also cause mental health disorders such as PTSD, which require professional mental health intervention. This type of damage to your mental well-being can also constitute grounds to file a personal injury claim.
Call Decker Law Firm About Your Car Accident Case
After a decrease during the early days of the pandemic, car accidents are on the rise once more. If you've been in an accident caused by another driver's negligence in Virginia Beach, it's time to talk to a car accident lawyer.
Decker Law Firm is here to help. Contact us today and let us know the facts of your case so that we can advise you on the next steps to take.