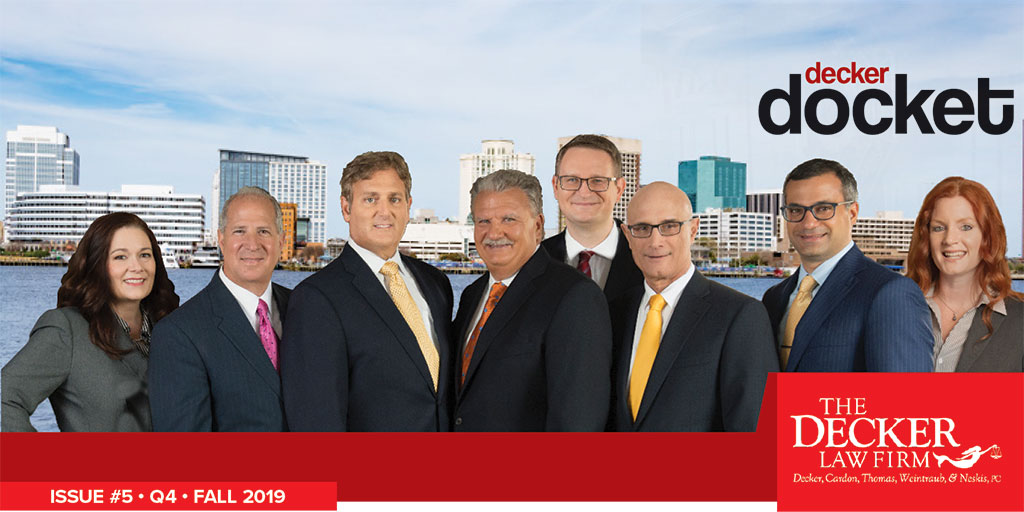 Helping People: More Than Just a Motto for Decker Law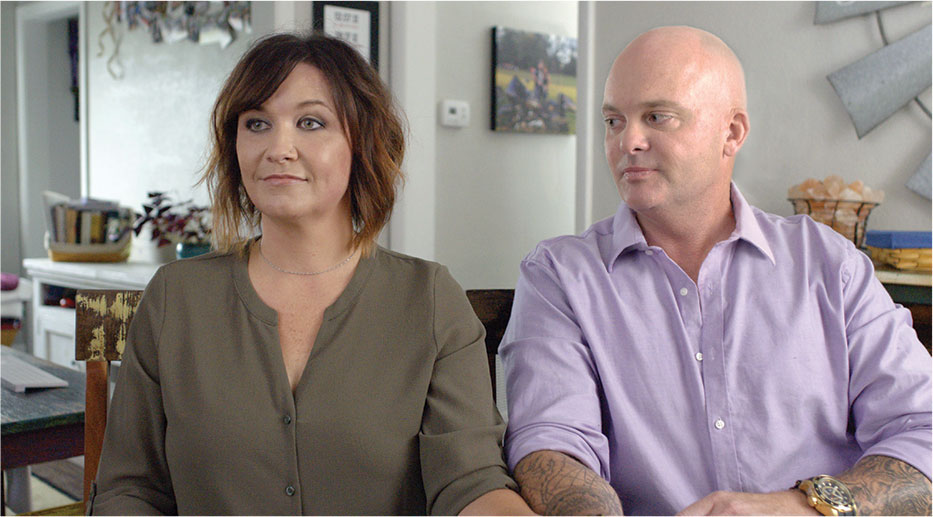 Angela Edwards was on her way home from work, enjoying the beautiful day with a ride on her motorcycle. Suddenly, a driver turned in front of her, without any indication, causing her to collide face-first with his truck. The driver of the truck fled the scene, but Angela later learned he had been intoxicated that day.
Accidents like Angela's are all too common – in fact The National Highway Traffic Safety Administration (NHTSA) reports that per vehicle mile traveled, motorcyclists are about 27 times more likely to die in a motor vehicle crash than passenger vehicle occupants and are 5 times more likely to be injured.
In an interview with representatives of The Decker Law Firm, Angela recalled the accident saying, "I was a very cautious rider, almost to a fault. I was always watching everything around me, always watching the other cars, and I just remember thinking that I didn't see him in the turn lane with a turn signal on. I would have seen him and thought, 'Okay I'll keep my eye on you and make sure you see me.' Because I know a lot of people don't look for motorcycles."
Angela woke up on the ground, surrounded by other drivers who had seen the accident and stopped to help. Some had gone on to follow the truck driver, while others stayed to help keep Angela awake and alert until the emergency responders arrived.
"I remember the look on the police officer's face, he was kneeling over me, I remember the look on his face, and it was very concerning, and I knew it was bad. You could just tell, how someone looks at you… he almost had tears in his eyes", Angela recalled. "I don't really remember a lot of pain at that point, it was just wanting my husband by my side."
Her husband, Andy, got out of a meeting at work to find 27 missed phone calls. He called her cell phone back and was greeted by the police officer at the scene. Her husband's first request of the officer – "Please tell me she's not dead."
Andy raced from work to meet Angela and the paramedics at the hospital. When asked what was going through his head when he first saw her after the accident, Andy replied, "What do we do? I don't know how the doctors are going to fix her… is she going to live?"
Angela's helmet saved her life that day, but she still suffered severe blunt force trauma to her face. She lost 5 teeth and required a bone graft to reconstruct her jaw. Her right wrist was seriously injured, leaving no ligaments, and her pelvis was fractured in 4 places, causing her to require a wheelchair for 3 months. Angela will soon have her 14th surgery since the accident – a procedure to fuse her wrist, in the hopes that it will reduce her pain.
The day after the accident, with Angela on day two of a multi-week hospital stay, a close friend suggested that they reach out to an attorney and recommended the Decker Law Firm. Her husband made a phone call to the firm, and that same day received a visit. Angela shared the experience saying, "I remember them standing at the end of my [hospital] bed, speaking with my husband. They were so kind, and so caring, and just made us feel at ease." Shortly after her release from the hospital, Attorney Joel Weintraub met Angela and Andy at their home. During this home visit, Joel obtained more detailed information about the accident and Angela's injuries, taking the time to answer any questions the couple had about how Angela's claim would proceed.
The Decker Law Firm, a Norfolk based Personal Injury firm, was opened over 50 years ago by Peter Decker Jr. (1936-2012). When Decker Jr. started practicing law, he had only one goal in mind: helping people. His mission to help remains the priority for all attorneys and staff at the firm, including his son, Peter Decker III. When Joel Weintraub, a Partner at Decker Law, took Angela's case, his only priority was getting her the best possible result.
Angela almost bled out on her way to the hospital and told us she considers herself lucky to be alive. Andy shares the feeling of luck saying, "Without her… it's just lonely. I'm glad we were able to get the attention and doctors she needed. A lot of that is because of The Decker Law Firm. They guided me in what was best to do. They said, 'Relax, we've got this. You do your part with her.'"
"It's been great to see her strength, and that's what's great about The Decker Law Firm – they took care of the fiscal piece, the legality piece, and I got to take care of her", Andy commented. "The Decker Law Firm definitely guided me through the process and what to do, and actually told me things that I didn't even know we were entitled to." He continued, saying, "The money was nice, it has helped because she has lost her job, she can't work. Even if she had a job, she would have to take off work every month for two or three weeks because she needs another surgery. That money has helped supplement the income there."
Looking back on their journey as a couple since the accident, Angela said, "There's so many things that he did for me that you shouldn't have to ask a spouse to do at our age. He fed me, he nursed me back to health, he helped me walk, he pushed me. There's been so many days I've gone through where I don't want to do this anymore. I don't want to go through another surgery. And he's right there, saying how much he loves me right before I go into the OR, and he's right there when I come out and wake up."
Angela was an active marathoner before her accident and can no longer run due to the injuries she suffered on her pelvis. With both of her favorite hobbies, running and riding, off the table, she and her husband have been exploring new activities. "We are just finding new things that we like to do together; we go out and go antiquing, try new restaurants, go to museums… just a bucket list of things to do to keep our minds off the things we don't have any longer." She shared that in addition to this bucket list, she and Andy have shifted their love of motorcycles over to a less dangerous mode of transportation – cars. Andy shared the sentiment saying, "I have my wife, she's beautiful… we'll find other things to do."
Unfortunately, Angela's accident is not unique, even to her own family. Her older brother was tragically killed while riding his bike – by none other than a drunk driver. "The toll this took on my mom was extremely difficult because she lost her oldest – and then to almost lose her youngest to another drunk driver is …. I promised my mom, no more.", Angela said.
Angela says she would recommend The Decker Law Firm to anyone, saying, "They were amazing, I don't think I could find the words to speak highly enough about Joel and The Decker Law firm. They were just absolutely amazing." If you have been in an accident caused by another person's negligence, reach out to the experienced attorneys at The Decker Law Firm. Call them at 757.622.3317 for your free consultation. You may be entitled to more than you think.
Welcome to MyNorfolk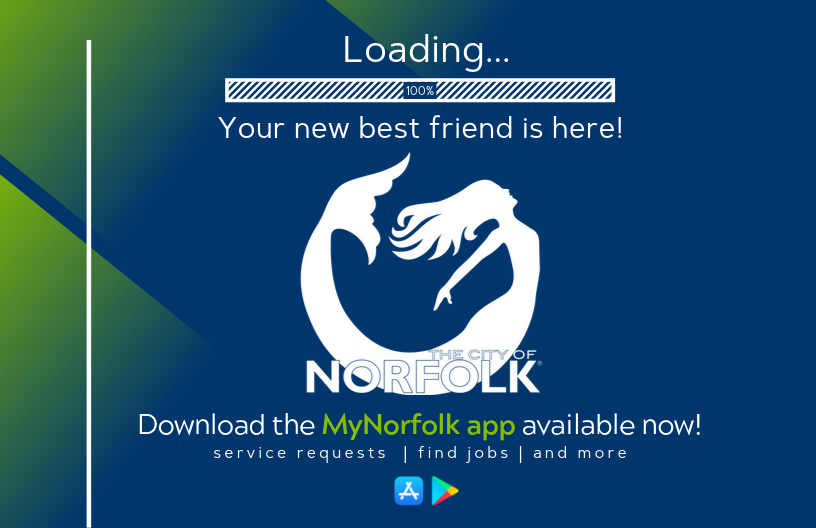 At the beginning of October 2019, Norfolk city rolled out an all new companion to their Norfolk Cares Call Center. The new MyNorfolk website and mobile app offer a portal where any citizen can submit service requests. The services also include handy city information, such as job listings, trash & recycling schedules, permit requirements, public safety numbers, and more.
MyNorfolk offers 145 different service requests categories, ranging from requesting a change of address for your water bill, to graffiti removal, "Chicken Concerns", and everything in-between. MyNorfolk allows residents to not only submit these requests, but to track their progress in real-time. Requests can be submitted at any time, but the City notes that fulfillment will only take place during regular business hours.
5th Annual Peter Decker Children's Charity Brews & BBQ
Thank you to everyone who was able to come out to O'Connor Brewing to celebrate the 5th Annual Brews & BBQ fundraiser! This event offered all you can eat & drink for a $20 donation, benefiting the Peter Decker Children's Charity (PDCC). We were able to raise over $30,000 for some incredible children's charities!
PDCC is comprised of local volunteers partnering with local businesses to support local (and national) children charities. The mission is to help children all over the world live a long, healthy and meaningful life.
Special thanks to our event sponsors: Smithfield Foods, Redwood Smoke Shack, d'Egg Diner, O'Connor Brewing, Todd Jurich's Bistro, and The Girl Tyler.
Photo Credit: O'Connor Brewing Co.
Motorcycle Safety: Not Just For Bikers
According to the National Highway Traffic Safety Administration (NHTSA), 5,172 motorcyclists were killed in 2017. While this statistic has decreased in recent years, we would like to take the opportunity to share some essential motorcycle safety tips for motorcycle rides as well as other drivers on the road.
Motorcycle Driving
Proper Licensing: Just like driving a car, it is essential to make sure you are in line with your state's motorcycle licensing requirements. In Virginia, you must have an "M" class listed on your license in order to operate a two or three wheeled vehicle. You must pass a vision screening, pass a motorcycle knowledge exam, obtain and hold a motorcycle learner's permit for 9 months, and pass the motorcycle road skills test. Maintaining a Class "M" designation also requires an annual fee.
Preparing for The Ride: The NHTSA recommends checking your motorcycle's tire pressure, tread depth, headlights, signal indicators, and fluid levels before each ride. You should double-check that any and all cargo has been appropriately secured, and that suspension and tire pressure have been adjusted to accommodate any extra weight.
Preparing a Passenger: Passengers should mount the motorcycle only after the engine has been started, should sit directly behind the driver – as far forward as possible – and should keep both feet on the footrests at all times. Drivers should remind passengers to keep their feet stationary, to keep motion to a minimum, and to lean at the same time and in the same direction as the driver.
Dress for the Occasion: In Virginia, the DMV requires both drivers and passengers to wear a helmet that reaches the standards set by the US Department of Transportation (DOT), Snell Memorial Foundation, or American National Standards Institute (ANSI). You can look for the DOT symbol on the outside back of the helmet and can find Snell and ANSI labels located inside. The NHTSA offers an online tool to help you choose the right helmet for you. The VA DMV also recommends eye protection, durable jackets and pants (no flared legs), non-slip gloves, and footwear that protects the foot, ankle, and lower leg. They also suggest wearing bright or reflective materials on your upper body when riding at night.
Ride Responsibly: It is essential for drivers to familiarize themselves with, and follow, all local traffic laws. Obeying traffic lights, lane markers, and speed limits will prevent many tragic motorcycle accidents. NHTSA reminds motorcyclists to always drive defensively, stating, "The majority of multi-vehicle motorcycle crashes generally are caused when other drivers simply didn't see the motorcyclist. Proceed cautiously at intersections and yield to pedestrians and other vehicles as appropriate." As with the operation of any motor vehicle, riding under the influence of any substances will impair your judgement and slow your reaction time. Drive safe, and drive smart.
Motorcycle Safety for Other Motorists
Stay Alert and Aware: The NHTSA reports that per vehicle mile traveled, motorcyclists are about 27 times more likely than passenger vehicle occupants to die in a motor vehicle crash, and 5 times more likely to be injured. It is absolutely essential that all motorists on the road remember to stay alert and aware of nearby motorcyclists.
Signal Your Intentions: Always use your turn signal, check all mirrors, and check all blind spots for motorcycles before changing lanes. Size also counts against motorcycles when it comes to blind spots. Motorcyclists can be easily hidden in a vehicle's blind spot.
Allow More Room: While motorcycles may be smaller than a car, they do require the entire width of the lane to drive safely. Never attempt to share a lane with a motorcyclist. It is equally important to give motorcyclists extra space when you are driving behind them. Leaving extra following space allows all drivers involved extra time to react to road conditions. Motorcyclists do not always use their brakes when slowing down – it is important to stay aware of their speed and to maintain a safe distance.
Drive Responsibly: Research and state-level data consistently identifies motorists as being at-fault in more than half of all multi-vehicle motorcycle-involved collisions. It is YOUR job to stay aware of the road around you when driving. Regardless of if the motorcyclist is following all state and local regulations – all surrounding motorists must continue to drive safely and responsibly. Just like always, driving under the influence of any substance will cause an accident. Never attempt to drive when you are not sober.
---
Holiday Baked Mac & Cheese
---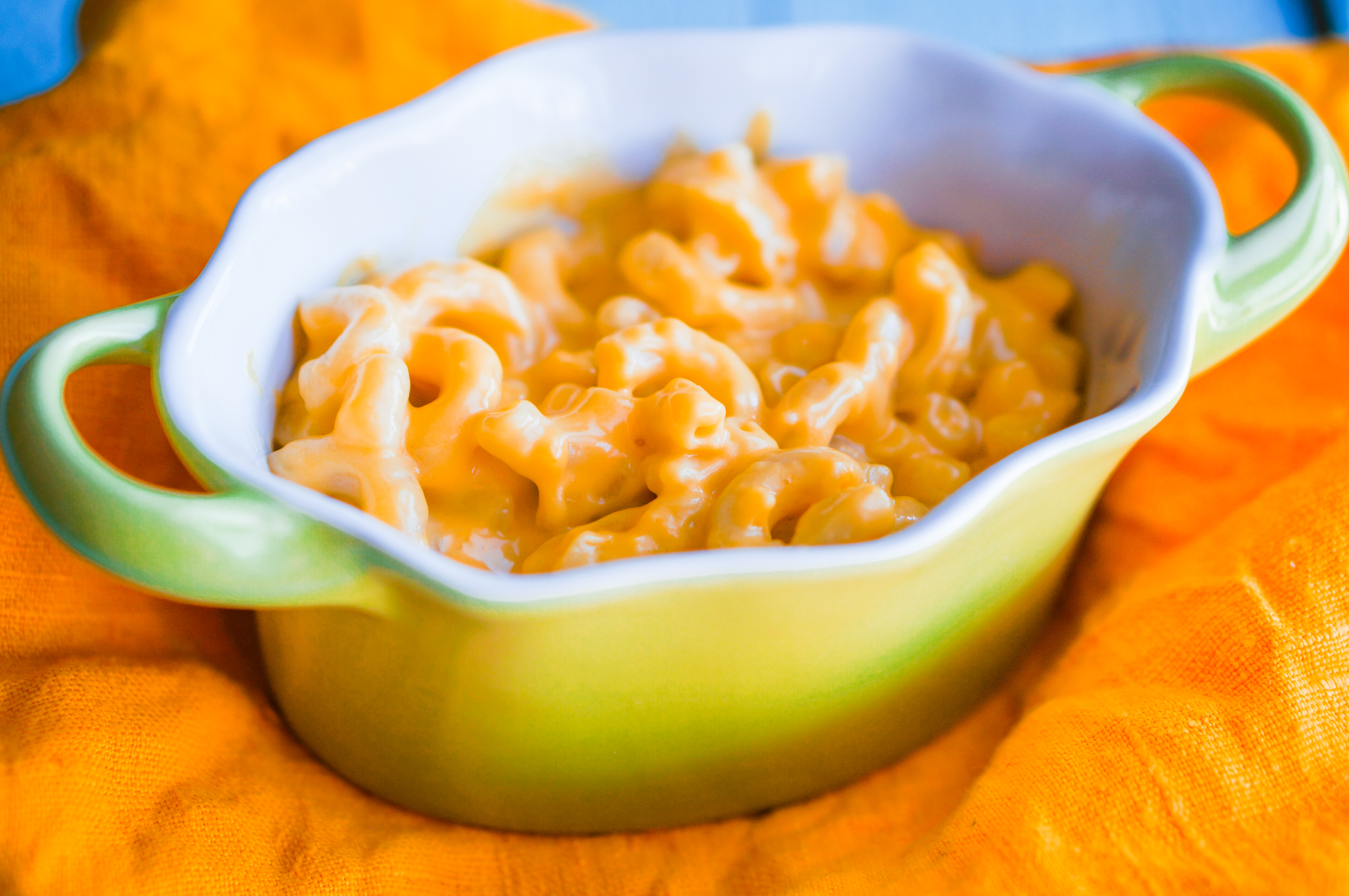 Ingredients:
7oz package of elbow macaroni
2 tbsp margarine
2 tbsp flour
1 tsp salt
2 cups milk
1 cup each: shredded colby, cheddar, and Monterey jack
¼ cup parmesan
2 tsp parsley flakes
2 tbsp breadcrumbs
Instructions:
Cook and drain macaroni, then place to the side
In a separate bowl, mix all cheese together. Scoop out ¼ cup and set aside
In a saucepan over low heat, melt butter before stirring in flour and salt
Blend in milk and cook until the mixture is thick, stirring continuously
Stir in cheese and mix until entirely melted
Mix in cooked macaroni and parsley flakes, stir until well incorporated
Pour into casserole pan and top with the ¼ cup of cheese reserved earlier
Melt margarine in microwave and mix with breadcrumbs to create buttered crumb
Sprinkle buttered breadcrumbs over top before placing in a 350° oven for 25 minutes.
Let cool and serve.
Deckerween Costume Contest
Halloween is one of our FAVORITE times of the year. Our staff goes all out for our annual Halloween party. Check out some of these incredible costumes from the last few years!
Check out all of this year's photos and our 2019 winners on our website! Here's a sneak preview.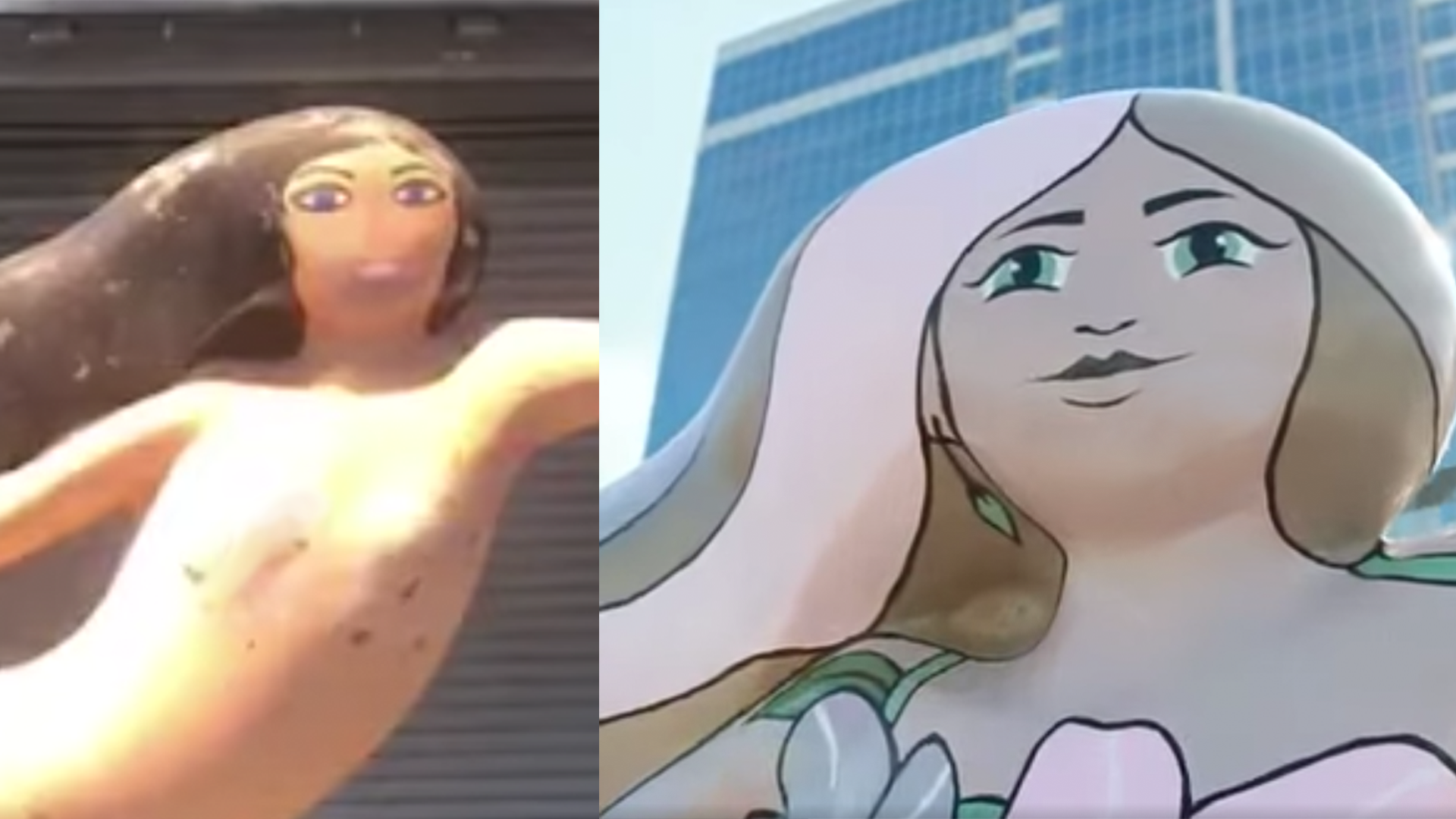 Princess Azelea
Princess Azalea, a resident at Nauticus, recently got a well-deserved makeover! The City of Norfolk shared this update vis Facebook saying, "Time for a #MermaidMakeover! "Princess Azalea" is restored thanks to Nauticus staff Don Sippel, Eric S Alton, Matha Walker and the very talented local artist Aimee Bruce! #MermaidCity"
You can come by and visit her at 1 Waterside Drive, Norfolk VA.
Watch her transformation in this Facebook video.

2019 Grand Illumination Parade
November 23 at 7pm
The 35th Annual Grand Illumination Parade, "Toy Land," will take place in Downtown Norfolk, bringing thousands of spectators out to take in the beauty, magic, and electric holiday spirit. The Grand Illumination Parade is a beloved holiday tradition for many in Hampton Roads.
---
Dickens' Christmas Towne
November 23 – New Years Eve
Dickens' Christmas Towne is back! Enter into a magical world at Nauticus, stroll through Victorian Streets with Christmas characters, carolers, sweet treats, train displays, activities and crafts.
The Nutcracker at Chrysler Hall
December 6 – 8
Tchaikovsky's brilliant ballet score comes to life for this magical collaboration between Richmond Ballet, The State Ballet of Virginia, and the Virginia Symphony Orchestra! From a battle beneath the branches of a mystical Christmas tree, to a winter white forest, and then off to a far-off kingdom of delectable sweets, this dazzling production is sure to bring joy to everyone's December.
---
Yule Log Bonfire & Marketplace
December 7 12:00pm – 8:00pm
This festive outdoor wonderland will feature unique and local crafters, a massive Yule Log bonfire, Christmas caroling with a take home carol book, and also a visit from the big-man himself, Santa Claus. During the festivities, hot chocolate, ciders, seasonal craft beer, mulled wine and other holiday treats will be available for purchase.
Hamilton at Chrysler Hall
December 10 – 29
HAMILTON is the story of American's Founding Father Alexander Hamilton, an immigrant from the West Indies who became George Washington's right-hand man during the Revolutionary War and was the new nation's first Treasury Secretary. Featuring a score that blends hip-hop, jazz, blues, rap, R&B, and Broadway, HAMILTON is the story of America then, as told by America now.
---
Norfolk Botanical Garden's Garden of Lights
December 15-31
Don't miss Virginia's favorite holiday tradition. Drive through our 25th annual light show extravaganza for a magical holiday experience. During this event, the Garden is transformed into a winter wonderland bringing the four seasons to life.