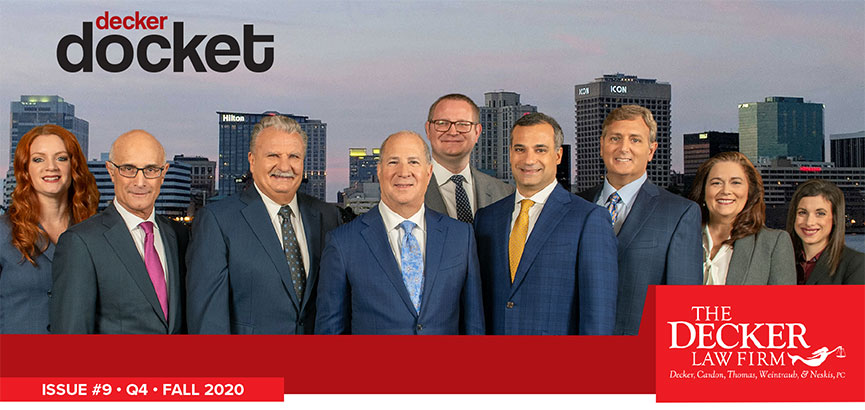 Jury Trials Resume: What You Can Expect When Reporting for Jury Duty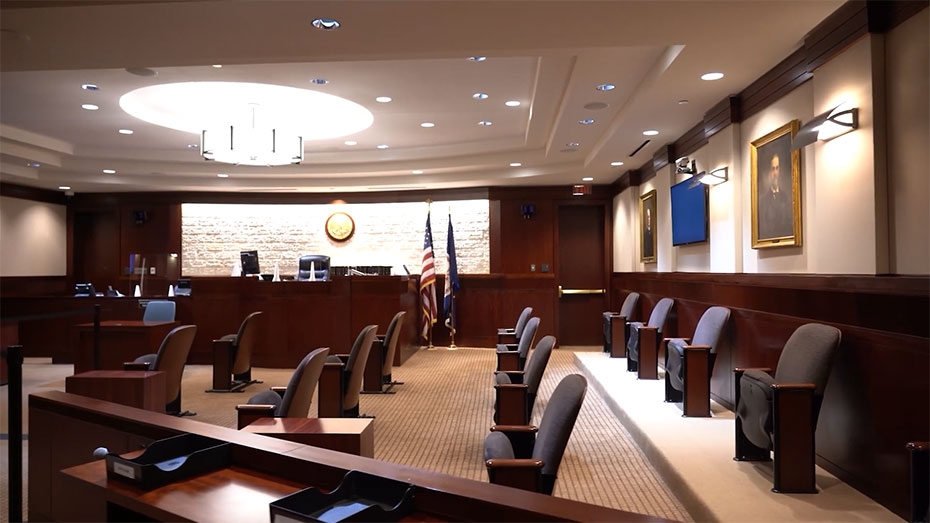 Jury trials have been suspended in the State of Virginia since March this year, due to COVID-19 precautions. The Virginia Supreme Court has recently approved the plan provided by Norfolk's Circuit Court, and three others across the state, to re-open and to resume these essential jury trials. The Norfolk Courts demonstrated a few of their COVID-19 precautions in a video shared with the announcement. Some of these include required masks for everyone entering the courthouse, temperature screening stations when entering the building, significantly increased frequency and cleaning for all areas of the courthouse, and an expanded jury box to allow for 6 feet of distance between jurors.
The jury summons will also include a list of symptoms and high-risk factors. Those who answer "yes" to any of the questions will be asked to contact the clerk's office to reschedule their jury service for a month of their choosing. Those over the age of 65 who wish to be excused will be without any further questions. The online eJuror system will also ask questions regarding high-risk members of your household, whether you are a caretaker, whether you interact with high-risk individuals for work, and more in order to ensure the safety of all.
Chief Judge Mary Jane Hall asks each Norfolk citizen to take a jury summons seriously, saying, "We can't do it without jurors! So please, if you get a summons for jury duty, maybe you'll roll your eyes, maybe you'll think 'why me?', but I just want you to put yourself in the position of somebody who's liberty and who's right to justice depends upon good citizens, such as yourself, appearing for jury duty and listening carefully and making a decision. It's the most critically important part of our system of justice, and the foundation of our system of justice."
Potential jurors are selected for service at random, using lists designated by the court such as voter registration or driver's licenses. As the Norfolk Circuit Court website states, "You do not need any special skills, knowledge, or education to be a juror. However, you must be fair, impartial, willing to listen and willing to keep an open mind."
When you arrive for jury service, you will first be gathered in the court room and asked a series of questions. These are asked in order to ensure the jury members assembled for the trial are all able to proceed with fair judgement, and no impartiality. After this, some potential jurors may be excused. If you are selected as a juror, you will be provided with a badge, and will proceed with the trial.
At The Decker Law firm, we echo Chief Judge Mary Jane Hall's call for all Norfolk citizens to take their jury summons seriously. Your willingness to participate helps to ensure fair and just judgement for all those who have been waiting these long months for jury trials to resume. If you are in need of legal representation, reach out to Decker any time. We'll schedule you a free consultation, and help you work through the issue you're facing in any way we can.
Happy Halloween!
Each year our team at Decker celebrates Halloween with a costume contest. This year, we've also included a mask decorating competition! We are excited to share that this year's 1st place winner is Madison Adams, with her incredible sugar skull! 2nd place goes to Ruby Capps for her "Upside Down" costume, and 3rd place goes to Wilson Mathews for "Gaga on Piano"! Our first official mask contest winner is Maureen Champignon!
It's Time to Vote
Returning an Absentee Ballot
If you are returning your ballot by mail, it must be postmarked on or before Election Day, and received by your registrar by noon on the third day after the election (Friday, Nov 6th).
The VA Department of Elections states online that "There is a drop-off location at your local registrar's office, at every voter satellite office in your county or city, and on Election Day at each polling place in your county or city."
Please note that your ballot MUST be returned in the sealed envelopes that are provided.
If you are dropping off an absentee ballot on election day, it must be turned in by 7pm (the same time the polls close).
Absentee ballots can be returned by USPS mail, courier delivery (DHL, Federal Express, UPS, etc.) or in person to Norfolk's Central Absentee Precinct (City Hall, First Floor) during office hours ahead of election day.
Voting in Person
Polls are open from 6:00 a.m. to 7:00 p.m. on Election Day
Remember to bring your ID! Virginia Law requires all voters to provide either an acceptable form of ID, or to sign an ID Confirmation Statement. You can find a full list of acceptable forms of ID for voting on the VA Department of Elections website.
Double-check where your polling place is, some locations may have changed due to COVID-19. Check online at: https://vote.elections.virginia.gov/VoterInformation
Employee Anniversaries
In 2020 we wanted to celebrate the incredible staff that keeps The Decker Law Firm running. Without our team's focus and hard work, our attorneys would not be able to help nearly as many people as we do. Whether you have been here for 1 year, or for 40, we consider ourselves so lucky to have you!
Melissa Matthews, September 7th, 10 Years
Michael Wilkerson, September 17th, 8 Years
Caressa Henderson, September 24th, 19 Years
Kaylee Fuller, November 8th, 3 Years
Delores White, November 20th, 3 Years
---
Ultra-Creamy Mashed Potatoes
---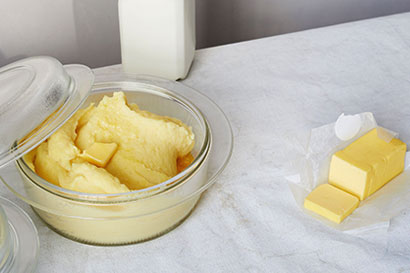 Ingredients:
4 pounds medium Yukon Gold potatoes, scrubbed
4 teaspoons kosher salt, plus more
1½ cups whole milk
½ cup heavy cream
1 head of garlic, halved crosswise
3 sprigs rosemary
1 cup (2 sticks) unsalted butter, room temperature, cut into pieces
Freshly ground black pepper
Instructions:
Place potatoes in a large pot and pour in cold water to cover by 1″.
Add a large handful of salt (water should taste briny, like the ocean) and bring to a boil.
Reduce heat and simmer until potatoes are very tender but not crumbly, 30–35 minutes.
Drain, briefly rinse with cool water to remove any excess starch, and return potatoes to warm pot (off heat) to dry while you heat the milk mixture.
Warm milk, cream, garlic, and rosemary sprigs in a small saucepan over medium until fragrant, about 5 minutes. Remove pan from heat.
Pass hot potatoes through ricer or food mill into a large bowl (cold potatoes will become gummy).
Add butter and 4 tsp. salt and stir until butter is completely incorporated.
Strain warm milk mixture through a fine-mesh sieve into a large measuring glass. Pour into potatoes ½-cupful at a time, stirring after each addition until liquid is fully incorporated and mixture is smooth before adding more.
Serve mashed potatoes topped with a few grinds of pepper.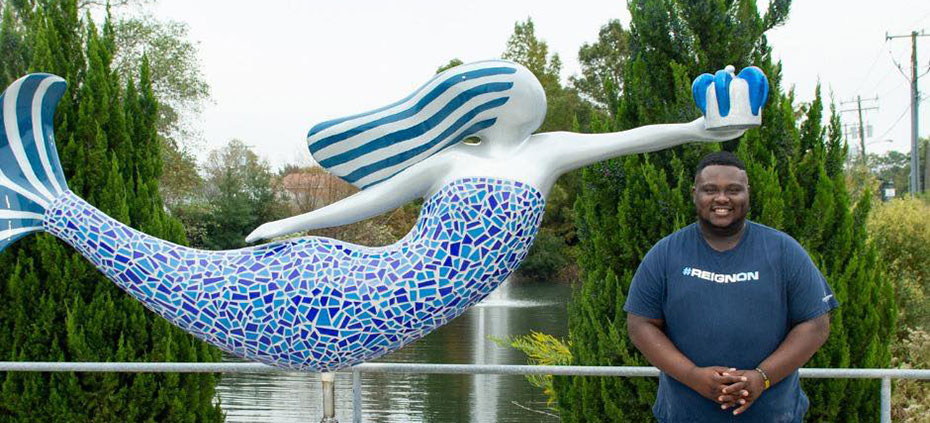 Meet "Reign", Norfolk's Newest Mermaid!
On October 28th, Old Dominion University (ODU) unveiled a new addition to campus. The new mermaid, named "Reign" by ODU students, to mirror the university's spirited chants, will be placed on campus at Brock Commons.
Former Student Government Association President Isaiah Lucas led the project and played a major role in its planning. In a statement shared by ODU, Lucas said, "It's important that we have a mermaid because it symbolizes that we're a part of the city. We're not just Old Dominion University, we're Old Dominion University in Norfolk, Virginia."
The Decker family is proud to have introduced the idea of Mermaids throughout the city over 20 years ago, and we are thrilled to see the tradition continue on ODU's campus. Peter Decker, III also made an appearance in the unveiling webinar sharing, "I know how proud and thrilled my father would be to see this beautiful mermaid – it represents the city he loved and now proudly stands at the alma mater he also loved so much. Go Monarchs!"
Reign was designed by Brooke Benham, and created by ODU Alumna Georgia Mason in collaboration with ODU Student Government Association leaders and art students.

Meeting in front of Slover Library
Saturday, November 7, 2020
3:30pm-5:00pm
This free walking tour will focus on general highlights of Downtown — from historical sites, to significant architecture, to green spaces, theaters, and houses. Tour will meet in front of the Slover Library, and look forward to showing off Downtown Norfolk to you all! Social distancing will be required, and the number of people who can attend will be limited. Please "register" for the tour through Facebook by clicking the "Reserve a Spot" button.
---
Chrysler Museum of Art and Perry Glass Studio
October 27, 2020 – January 3, 2021
This exhibition was conceived in the early days of the COVID-19 pandemic, when people faced unprecedented isolation, while also uniting in a struggle to control the devastating disease. The feelings of distance and loneliness have fostered a new appreciation for communities and personal connections. It features more than 100 works of art drawn from the Chrysler's collection and digital photography submitted by members of the community.
Nauticus
Weekly on Wednesday
October 28 – December 30, 2020
Voyage to the Deep is making its first-ever appearance in the U.S. with a Nauticus takeover! Take the helm and dive deep into a fantastical underwater world through this one-of-a-kind small group adventure. Pilot an underwater robot and play in Captain Nemo's submarine as we discover the sea life living in the deep ocean. Explore this exciting exhibit in a fun, safe, dynamic and wide-open space! Masks are required and thorough cleanings will occur throughout the day.
---
Norfolk Botanical Garden
November 13, 2020 – January 2, 2021
5:30pm-10:00pm
This year the stunning display of lights at Norfolk Botanical Garden is available exclusively as a safe drive thru experience. Each night has limited availability, so purchase your tickets online in advance and drive safely through more than a million twinkling lights! Tickets must be purchased in advance.
---