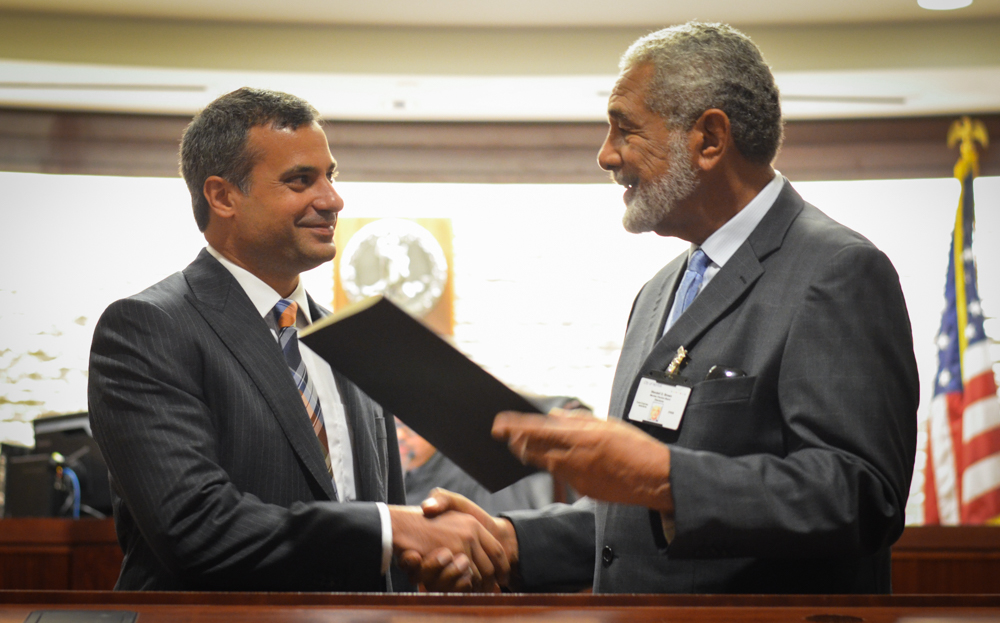 New Norfolk City Councilman Martin Thomas Jr. To be a Positive Voice For Wards Corner And Other Worthwhile Causes
Martin Thomas Jr. is a familiar face in Norfolk. You may recognize him from his extensive participation in local organizations such as the City of Norfolk Planning Commission, the Norfolk Architectural Review Board, the Wards Corner Civic League, or from The Decker Law Firm, where he is a personal injury and criminal law attorney.
On August 31st, Thomas added a new title as he was sworn in as Norfolk City Councilman for Ward 1. Thomas ran unopposed in the race for Norfolk City Council.
With an educational foundation in urban planning, strong family ties to the Hampton Roads area, years of experience as an attorney, and a civic-minded background, Martin A. Thomas Jr. has the perfect credentials for city council. Jim English, longtime president of the Wards Corner Civic League, told The Virginian Pilot during Thomas' campaign "Thomas knows how to negotiate, how the city works and how to get things done." Don Musacchio, president of the Willoughby Civic League, told The Virginian Pilot that Thomas "has a knack for gathering the facts, asking questions and then convincing people of the right path forward."
After college and law school Thomas returned to Hampton Roads and moved to Wards Corner in 2005, with his wife Maggie. Immediately he realized he wanted to get involved and help revitalize Wards Corner. He recognized that it was impossible to move the community forward without a "strong voice" on the council and that the people "needed to create a movement." Thomas understands the importance of planning for the future. The issues that face Ward 1 and Norfolk also affect him and his family personally. School funding, climate change, and public safety play large roles in his own life and in his children's future.
With that inspiration he founded Wards Corner Now, a community organization with "the objective and common goal of improving the Greater Wards Corner area by working with civic leagues, businesses, churches, schools, and the city." Thomas later became the Vice President of the Wards Corner Civic League, as well as Vice Chairman of the City of Norfolk Planning Commission.
As Vice Chairman of the Planning Commission, Thomas pushed for total transparency of their meetings. He succeeded in instituting a mandate to televise planning commission meetings. As a result, the formal sessions are now televised and later posted on YouTube for archiving.
Last month, at the annual city council retreat, the council members did an exercise in which they came up with seven words to describe what they aspire for Norfolk. Thomas' hope is for Norfolk to become a "progressive, authentic, resilient, and economically successful city." He elaborated to say he envisions a city "that benefits today's population as well as future generations." With his long record of being community minded and having a knack for embedding himself in the planning process, he is just the man for the job. "I want to work with the people of the city to make their lives better for today, and for the next generation."
Outside of local government and community involvement, Thomas is an attorney at The Decker Law Firm. His practice of law focuses on personal injury, criminal law, traffic, contract law, and civil litigation. He routinely tries civil cases in the courts of Virginia Beach, Norfolk, Portsmouth and Chesapeake. Thomas also exemplifies The Decker Law Firm's slogan of "Helping People." He has done work for multiple charities including founding and serving on the Board for the Peter Decker Children's Charity. In 2009 Thomas began teaching "Life Beyond the Felony: How to Restore Your Rights," to the students in the Fresh Start Program at TCC in Portsmouth. He currently teaches the class monthly at the Goodwill Employment Center in Portsmouth and as a part of the re-entry program at Chesapeake City Jail.
Thomas will carry on the tradition of "Helping People" by helping Ward 1 continue implementation of the Greater Wards Corner Comprehensive Plan. This is an estimated 15-year plan that has been in progress since 2004. It is designed to address a multitude of projects ranging from transportation initiatives to schooling and property rehabilitation.
Utilizing his educational and professional experience in public and urban planning, Thomas hopes to secure funding and execute the comprehensive plan in the best way possible. According to Thomas, work is "about halfway done at the moment." He believes the plan is essential to the growth of Ward 1 and "we must continue to work this plan, period."
Thomas aims to make Wards Corner an economically vibrant and family oriented destination. This will be accomplished with restaurants, small businesses, and neighborhood shopping centers. "A small business growing into a large business is the best thing that can happen for any local economy."
Thomas has multiple long-term priorities for the City of Norfolk. This includes advocating for a technology advisory committee, adding wi-fi access to public places such as parks and beaches, and moving forward with plans for a career technical school. He also wants to expand the light rail to ODU and military installations, increase cooperation between the Norfolk City Council and the School Board, and increase public transparency of local government.
Martin Thomas Jr. lives in Wards Corner with his wife Maggie and their two children. He will represent Ward 1 until mid-2018.
Source: The Downtowner