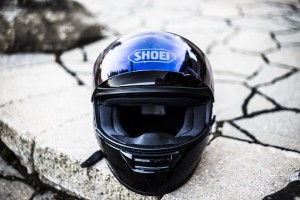 Few things top the thrill of riding a motorcycle. The wind, speed, and inherent danger makes adrenaline surge and attracts new riders  year after year. Yet tragically more than 4,000 people die from motorcycle accidents each year.
The Insurance Institute for Highway Safety outlines the dangers of riding motorcycles fairly succinctly:
"When motorcycles crash, their riders lack the protection of an enclosed vehicle, so they're more likely to be injured or killed. The federal government estimates that per mile traveled in 2013, the number of deaths on motorcycles was over 26 times the number in cars."
In light of the lethality of motorcycle accidents and the frequency at which accidents occur, it's important to be familiar with procedures that could help keep you safe as a cyclist:
Motorcycle safety starts with your gear. Always wear a helmet that fits right. Pick one that has the DOT label, which shows that it meets federal safety standards. Use safety as your excuse to shell out for that leather jacket. Get the pants while you're at it. And we know that black is in fashion right now, but brighter colors will make you more visible at night.
 Avoid bad weather. Slippery conditions make the road more dangerous for motorcycles and commuter cars alike. Rain not only cuts visibility but reduces tires grip on the road, which can make cornering more difficult.
Be ready to roll. Before each ride, do a quick walk-around to make sure your equipment is working properly. This includes but isn't limited to lights, horn, signals, and the brakes. And inspect the tires for wear and make sure they're set at the proper pressure. Worn tires and worn brakes are prime culprits in motorcycle accidents.
Avoid distraction. Distracted driving is dangerous in any situation, but it's worse when riding a bike. One of the keys to staying safe on a motorcycle is staying hyper-aware of everything that's going on around you. Motorcycles are tough for drivers to see, especially drivers in large cars or SUVs. You need to see and avoid them, rather than bet on them seeing you.
Look twice. It cannot be overstated how difficult it is for drivers to notice other motorcycles, and sometimes for motorcycles to notice other cyclists. If a lane change is worth checking once, it's worth checking twice.
Should you find yourself on either side of an auto or motorcycle accident, call the experts at The Decker Law Firm for assistance and legal advice in the days ahead (757)622-3317.