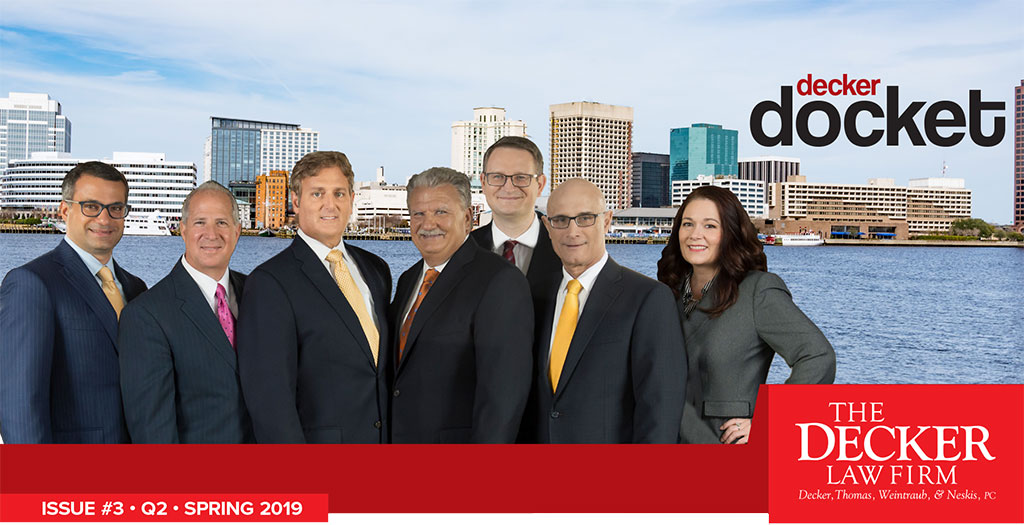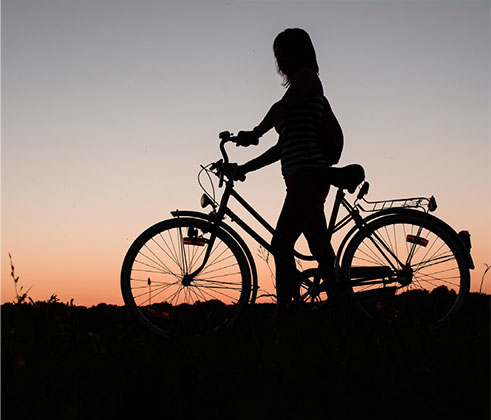 National Bike Month:
The sun is out, winter is clearly in the rearview mirror, and many residents of Norfolk are transitioning to cycling or walking to enjoy the pleasant shift in weather! And with that excitement, we want to share some bike routes and trails you may love in and around the great city of Norfolk this summer!
Elizabeth River Trail – One of the landmark trails in the area, the Elizabeth River Trail was made with a love for the city, born out of urban renewal and community collaboration, led by the Elizabeth River Trail Foundation. Its 10.5 miles marked by 11 sections take you through vignettes of the city, each seceding from another in a collage of neighborhoods, districts, and landmarks, giving riders a look into each intricate nook and cranny of Norfolk.
Indian River Park – Indian River Park Trail is a 1.6 mile lightly trafficked loop trail located near Chesapeake, Virginia that features a river. The trail offers a number of activity options and is accessible year round. Dogs are also able to use this trail but must be kept on leash
Cannonball Trail – Intended for walking, this self-guided tour allows you to follow the Cannonball Trail through 400 years of Norfolk and American history – and it makes a great bike trail. The trail winds along the shoreline of the Elizabeth River and through the districts of downtown Norfolk. Fol-low the historic sites highlighted on this tour and allow a minimum of two hours to walk the entire trail (or approximately one hour to bike it.)
First Landing State Park – Six miles of paved paths, sandy roads and planked boardwalk bridges on the Cape Henry Trail take you through First Landing State Park's lush landscape bejeweled with natural treasures of sweeping dunes, marshy bogs, and cypress swamps draped in Spanish moss. The trail circles near the Broad Bay beachfront of The Narrows and segues out to the boardwalk and South Beach Trail at the Oceanfront for breezy beach cruising.
Be mindful that wherever you ride, accidents involving automobiles and bicycles often involve serious injuries. Bicycle accident lawsuits often come down to whether the driver or the cyclist negligently caused or contributed to the accident. This negligence determination can be complex and require in-depth analysis. If you or a loved one has been in a bike accident, you should consult with an attorney to best protect your rights.
Remember to always:
Ride a bike that fits you—if it's too big, it's harder to control the bike.
Ride a bike that works—it really doesn't matter how well you ride if the brakes don't work.
Wear equipment to protect you and make you more visible to others, like a bike helmet, bright clothing (during the day), reflective gear, and a white front light and red rear light and reflectors on your bike (at night, or when visibility is poor).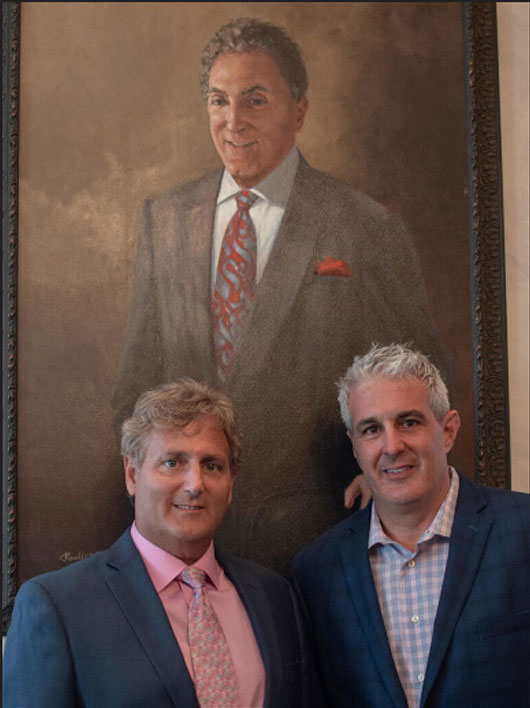 Peter G. Decker Immortalized in Portrait
With friends of the firm and the Decker family in attendance, Ron Primm unveiled a masterful rendition of the larger-than-life lawyer, Peter Decker, Jr. in April. A portrait that was no easy task to produce, as Martin Thomas of the firm makes clear, "as big a personality as Peter was on the outside, he was often even bigger than that with people who really knew him."
Primm estimates that about 100 hours went into making the 48''x 38'' oil on linen portrait, but admits that he has effectively lost count. Many hours were spent studying and reconstructing Peter's image through a vast collection of video and photo materials. Being close to Peter and the Decker family most of his life, Primm was able to capture a truly lifelike visage of Peter.
The painting will remain on display for all to see in Peter's former office at the firm, sitting comfortably on the wall near bright chandeliers, and across from memorabilia the attorneys have been gifted or collected throughout the years. "It was a fun project – kind of like being with Peter during the painting process, and I kind of miss him in the studio actually," Primm remarked after he unveiled the portrait.
---
Larry Cardon Retires From The Decker Law Firm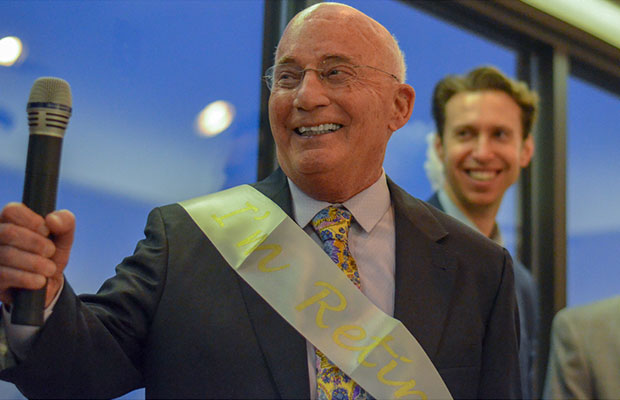 A normally quiet law firm in the heart of downtown Norfolk was a little rowdier Feb. 21 as they said farewell to a loved and long-standing attorney, Lawrence "Larry" Cardon. After 42 years of service at The Decker Law Firm, Larry is stepping down and retiring. His fellow lawyers, judges, friends, family, and all manner of acquaintances celebrated Larry's accom-plishments while overlooking sunset on the Elizabeth River at Waterside. Martin Thomas, a senior member of the firm remarked, "I think every general district court judge from Virginia Beach was there, as well as Norfolk Circuit Court judges and Juvenile Court judges from all around the area."
And while there were many heartfelt goodbyes, few believe Larry is gone from the firm for good. He is expected to reappear from time to time like a warm seaside breeze in retirement, as he refers to both Norfolk and the firm itself as "home" often.
Read the full article regarding his depar-ture here… https://petedecker.com/a-fighter-and-a-friend-larry-cardon-retires-from-decker-law-firm-after-42-years/
---
Kelsey's Springime Recipe
Vegetarian Black Bean Burgers
---

Ingredients:
2 15 oz. cans black beans, drained but not rinsed
1 cup breadcrumbs
2 cloves of garlic, minced
1 egg, beaten
1/8 tsp. of cayenne pepper
4 slices of cheese of choice – a favorite is pepper jack
4 hamburger buns
Dash of hot sauce
Salt and pepper, to taste
Toppings of choice
Directions
1. Pour two cans of black beans into a colander to drain. DO NOT RINSE!
2. Place beans in a mixing bowl and mash with a potato masher or a fork, until they are mostly broken up but there are still chunks of beans visible.
3. Add the breadcrumbs, egg, garlic, cayenne pepper, hot sauce, salt and pepper and combine with your hands into patties.
4. Stovetop version – Heat two tbsp of olive oil and 2 tbsp butter in a large skillet. Cook patties for about 5 minutes on the first side. Flip and top with slices of cheese and cook for about 5more minutes. Serve on your favorite bun or roll, with your favorite toppings.
5. Grill version – Heat a grill to medium heat. Make sure the grates are coated with non-stick cooking spray. Cook burgers on each side for 5-6 minutes. Top with cheese and move to the upper rack until cheese has melted. Serve on your favorite bun or roll, with your favorite toppings
---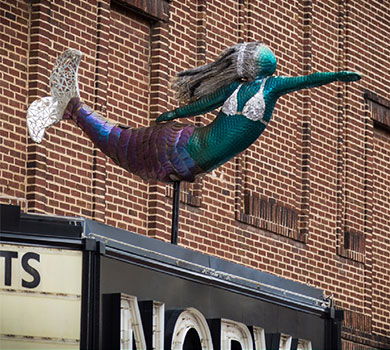 Music Mosaic
Resting atop the Norva on Monticello Avenue in Norfolk, Music Mosaic enjoys great views and great tunes any time of year as she watches the Tide roll on by. Sponsored by Rising Tide Productions and crafted by Jennifer Parker this mermaid is one rocking addition to our great city.
Learn more about the mermaids and their history on our website: https://petedecker.com/deckers-city-mermaids.

Spirit of Norfolk:
Memorial Day Moonlight
May 26
Cruise under the moonlight aboard Spirit of Norfolk for a Sunday night salute to Memorial Day Weekend. Enjoy a wide range of food and dance to your favorite R&B hits on the Norfolk waterfront.
Norfolk Harborfest
June 7-9
For three memorable days, the historic waterfront festival offers a weekend packed with thrilling activities on land and sea to include tall ships and the Parade of Sail, artisan foods and beverages, unique and unusual performances, one of the largest fireworks shows on the East Coast, family games and activities, national and regional entertainment, and much more.
Bayou Boogaloo Music &
Cajun Food Festiva
June 28-30
Norfolk's annual love-fest with New Orleans' vibrant spirit and captures the melting pot of Bayou culture. This popular 3-day festival delivers the heart and soul of Louisiana to visitors of Town Point Park in true Cajun and Creole style.
From New Orleans to the Downtown Norfolk Waterfront, two stages featuring national recording artists providing diverse cultural musical entertainment. This is the most authentic food and music festival in the nation.
37th Annual 4th of July Celebration
July 4
Guests attending at Town Point Park can buy traditional all American fare, including hot dogs, hamburgers, barbecue, seafood,
buttered corn on the cob, juicy watermelon, lemonade… with all the fixin's and much more available for purchase! Relax on the lawn and enjoy the live entertainment, then watch as the sky lights up with the fireworks display at 9:30 pm!
Norfolk Latino Music Festival
July 27
Eat, drink, and salsa the night away at the 19th Annual Norfolk Latino Festival! Live explosive music, Latin food, dance lessons, face painting, crafts, soccer, bi-lingual story time and more spice up Town Point along the downtown Norfolk, VA waterfront