Keeping Norfolk Safe: Bicycle Safety Tips from The Decker Law Firm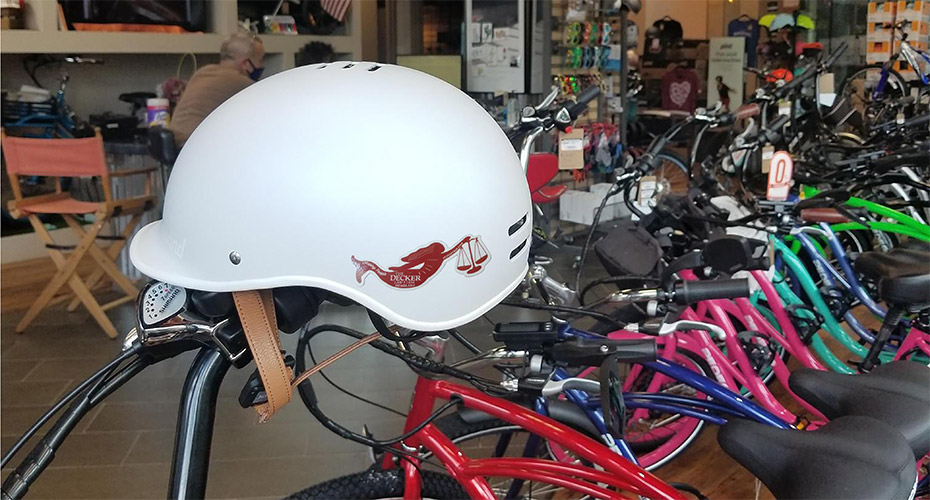 According to the National Highway Traffic Safety Administration (NHTSA), 857 bicyclists were killed in traffic crashes in 2018. This is the highest number of reported cases since 1990. These preventable accidents and deaths spike over the Summer months, with reporting from 2018 showing the highest numbers in September. Many news reports also show that interest in cycling has increased over the last few months, as it offers a safer outdoor exercise option in the midst of COVID-19. Fortunately, there are many easy ways to prevent bicycle traffic fatalities. Fortunately, there are many easy ways to prevent bicycle traffic fatalities. These include increasing helmet usage, preparation and knowledge of the bike rider, and driver knowledge of bicycle laws. Norfolk is a city on the go, but it is essential that we all work together to get there safely.
The Importance of Helmets
According to the Consumer Product Safety Commission (CPSC), a majority of the 80,000 cycling-related head injuries treated in emergency rooms each year are brain injuries. The Insurance Institute for Highway Safety (IIHS) reports that 61% of bicyclists killed in 2018 were not wearing helmets. Wearing a helmet is the easiest and most effective way to ensure your own safety when you are cycling. The National Safety Council (NSC) reports that wearing a helmet reduces risk of head injury by more than 50%. When selecting and wearing a helmet, it is essential to make sure the helmet fits correctly and has been adjusted to fit your head. The Bicycle Helmet Safety Institute (BHSI) offers a comprehensive list of helmet sizes according to the manufacturers, as well as Consumer Reports ratings, as well as other quick facts and tips for helmet use.
When adjusting your helmet's straps to fit your head properly, the NHTSA suggests first ensuring the helmet is sitting level on your head, with only 1 or 2 finger-widths of space between the top of your eyebrows and the bottom of the helmet. Next, adjust the side straps so the base of the "V" shape is sitting slightly in front of the ear. Lastly, when buckling the chin strap, you should tighten it so that no more than 1 or 2 fingers fit between the strap and your chin. You should be able to move your head around and feel no shift at all in the fit of your helmet.
Reducing the Risk as a Biker
Data from the IIHS shows that most deadly bike accidents occur between 6pm and 9pm in urban areas. A common contributing factor in motor vehicle accidents involving bicycles is failure of the driver to notice the bike rider. As a biker, equipping yourself with fluorescent or retro-reflective clothing and equipping your bike with active lighting can drastically increase your visibility to others on the road. While you cannot control what others on the road do, your attention and focus while bicycling can prevent many accidents. When you drive defensively you can anticipate potential dangers quickly, and avoid them altogether.
Remember that in Virginia, bicyclists have the same rights on the road as motor vehicles, and are held to the same standard. Drive with the flow of traffic (in a bike lane if available), obey street signs, signals, and road markings, and avoid dangerous distractions such as phone use or any intoxication.
Reducing the Risk as a Driver
As a motorist, you share the responsibility of staying aware of all others on the road with you. As we mentioned earlier, bicyclists share the same rights on the road as motorists. The IIHS reports that in 2018, 79% of bicyclists were killed in urban areas, and 63% of bicyclist deaths occurred on major roads (other than interstates and freeways). These statistics show that the safety of bicyclists dramatically decreases in areas where they share the roads with motor vehicles.
When making any turn (particularly a right turn on a red light), changing lanes, or even just opening a car door, it is important for motorists to take a moment and double-check for any riders who may have previously gone unnoticed. This quick precaution is particularly important when it is dark out. The Governors Highway Safety Association (GHSA) shared reports showing that only 11% of drivers detected the bicyclist before a collision occurred. The GHSA recommends motorists look 10 to 15 seconds ahead of their vehicle when scanning the road, as well as checking mirrors frequently to monitor all other vehicles on the road.
These guidelines for keeping cyclists safe on the road may feel familiar. Safe driving practices such as properly signaling intent, obeying the speed limit and other road signs, removing distractions, and checking mirrors frequently are essential for keeping everyone on the roads safe – not only cyclists.
What it Means for Norfolk
Norfolk is an extremely active city, with a lot of bicycle, scooter, and pedestrian traffic. As long as everyone on the roads remain vigilant and alert, we can do our part in reducing bike related accidents, injuries, and fatalities. If you've been involved in an accident in Hampton Roads, please reach out to the expert attorneys at The Decker Law firm. We understand that sometimes despite your best efforts, accidents happen. We are here to help, whenever you need us. Reach out to our office at 757-622-3317 today to schedule your free consultation.
OpenNorfolk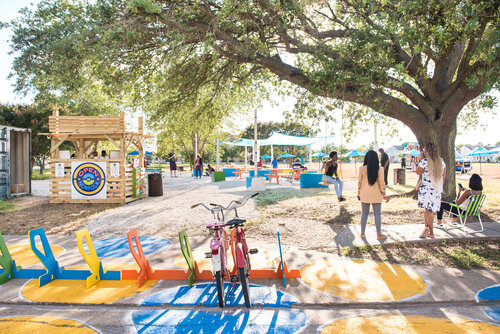 The City of Norfolk has recently announced the OpenNorfolk initiative – a "boots-on-the-ground community assistance program that is helping local businesses open safely under The Governor's Phase 1-3 Guidelines." OpenNorfolk has created temporary, flexible public parks which are providing safe, healthy, and fun programs. These Neighborhood Spots are available Tuesdays, Wednesdays, Fridays, and Saturdays, aiming to fill the need in Norfolk for safe, outdoor community as the pandemic continues.
In addition to providing stunning recreational spaces, each Neighborhood Spot also hosts free workshops for youths and adults, pop-up pantries, and more! Check out all the details on Facebook or at https://www.opennorfolk.com/.
Employee Anniversaries
In 2020 we wanted to celebrate the incredible staff that keeps The Decker Law Firm running. Without our team's focus and hard work, our attorneys would not be able to help nearly as many people as we do. Whether you have been here for 1 year, or for 40, we consider ourselves so lucky to have you!
Matthew Butler, 17 Year Anniversary, July 21st
Allesa Burns, 1 Year Anniversary, July 22nd
Madison Adams, 2 Year Anniversary, August 14th
Lauren Harrell, 6 Year Anniversary, August 25th
Hurricane Preparedness in Norfolk

As Hampton Roads residents, many of us have experienced the serious effects hurricanes can have on the East Coast. Despite our experience, it is vital that each year we brush up on evacuation plans and suggested preparations.
Know Your Zone
The Virginia Department of Emergency Management's "Know Your Zone" service designates roughly 1.25 million residents who live in Coastal Virginia into zones A-D. If you need assistance locating your zone, please call Norfolk CARES at 757-664-6510.
Make an Evacuation Plan
When severe storms are expected to hit the area, State and Local agencies implement a voluntary or mandatory evacuation, based on the potential danger in each zone. At the beginning of hurricane season each year it is important to sit down with your household and make an evacuation plan. The City of Norfolk recommends that the best place to evacuate is the safest place closest to home, preferably with family or friends. You can reference the "Know Your Zone" interactive map to locate the nearest safe area.
Mandatory Evacuation: Are just that; you must evacuate. If you choose to stay, you do so at your own risk. Should you choose to stay, please keep in mind emergency responders may or may not be able to get to you due to the conditions at the time.
Voluntary Evacuation: Citizen may choose to leave at any time when voluntary evacuations are ordered or when they feel it necessary.
If needed, the city will open emergency shelters. Please note that these are bare minimum facilities, so you should be prepared to bring what you need. This might include sleeping bags & pillows, personal hygiene items, a container for water, medications and medical supplies, non-perishable food, and a flashlight.
Get Notified
The City of Norfolk utilizes an emergency alert system. This program allows residents to receive alerts with critical information during times of emergency. The system will send these alerts wherever you specify – home, mobile, or business phones, email, or text. Registration ensures you receive notifications regarding evacuations and other storm related dangers immediately. Sign up for the alert program here.
---
Shrimp and Basil Stir-Fry
---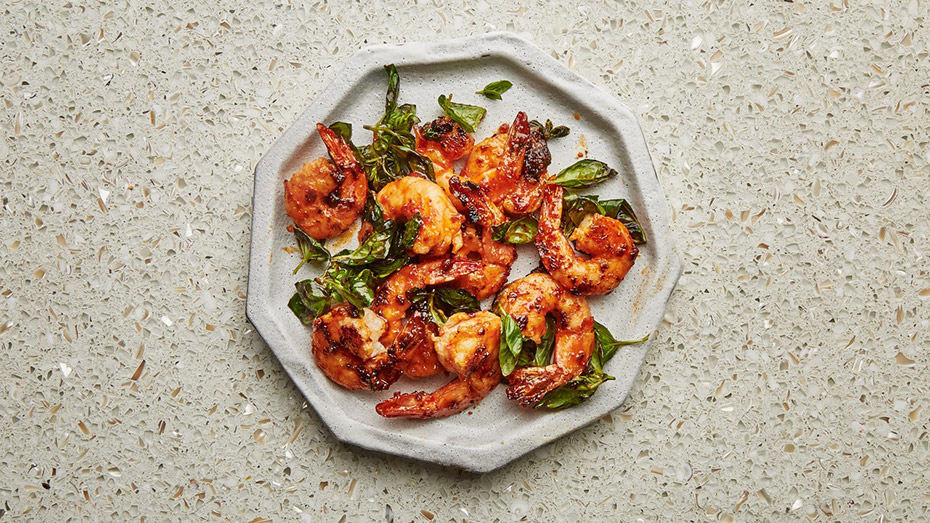 Ingredients:
3 Fresno chiles, coarsely chopped
6 garlic cloves, smashed
¼ cup sugar
2 Tbsp. fish sauce
1 tsp. kosher salt
4 Tbsp. vegetable or grapeseed oil, divided
1 lb. large shrimp, peeled, deveined
2 cups basil leaves (about 1 bunch)
Lime wedges (for serving)
Instructions:
Blend chiles, garlic, sugar, fish sauce, salt, and 3 Tbsp. oil in a blender until smooth.
Transfer marinade to a medium bowl and add shrimp; toss to coat. Let sit 10 minutes.
Heat remaining 1 Tbsp. oil in a large nonstick skillet over medium-high.
Just when oil begins to smoke and working in batches if needed, add shrimp, leaving marinade behind, and cook, turning once, until lightly charred around the edges, about 1 minute per side.
Remove pan from heat. Add basil and toss vigorously until basil is wilted.
Transfer shrimp mixture to a platter. Serve with lime wedges alongside.


Gem of the Sea & Miss Definitely Downtown
These mermaid sisters are placed at the heart of downtown Norfolk, at the corner of City Hall Avenue & Granby Street!
Gem of the Sea (pictured on the left) was originally created by artist Cynthia Graf, and was later restored by Georgia Mason. She is sponsored by the General Services Administration.
Miss Definitely Downtown (pictured on the right) was painted by artist Chris Alexander and sponsored by the Downtown Norfolk Council.

Norfolk Botanical Garden
August 14 – October 1
Enjoy Flamazing Flamingos, fun and educational exhibit for people of all ages. The topiary flamingos will be located in various sections of the Garden and will allow visitors the opportunity to see what's involved in the care of topiary plants and how to maintain their beauty and precise look.
---
Virginia Arts Festival Courtyard
August 27 – Sept 6
This is a Contactless Outdoor performance that will abide by all CDC and State regulations regarding COVID. Featuring a tremendously lovable character and fun-filled songs, Junie B. Jones will capture your heart just like the books captivated an entire generation of students.
Chrysler Museum of Art
August 14 – September 6
Edvard Munch's The Frieze of Life is the point of departure for this first-ever exhibition dedicated to Edvard Munch at the Chrysler Museum. The autobiographical cycle of images captures how pain and healing are a part of life for Munch, who suffered an unusual amount of early trauma and vulnerability.
---
Available anytime
With the ongoing coronavirus pandemic and its effects on large events, Norfolk Festevents, is excited to announce a new series of virtual content featuring a behind-the-scenes perspective at Festevents, its partners, and the City of Norfolk. The new content includes FE TV, a Regional Live Music Calendar, the Inside Festevents Podcast, and additional interactive virtual experiences.
Saturdays Aug 15 – Oct 31
9:00 AM to 12:00 PM
The market is now operating in a walk-thru format. They will be operating under restrictions developed by the state specifically for farmers markets. When shopping, you can expect to see vendors only display one of each item or post a product list for you to order from. Then they will bag items up for you. Customers may not handle items prior to purchase.
---
October 17 & 18
11am – 6pm
Experience Hampton Roads' most anticipated Wine Festival of the fall season along the Downtown Norfolk Waterfront. This year's fall favorite will showcase more than 30 wineries with over 200 of the Commonwealth's finest wine varieties. All events will comply with COVID-19 regulations, including required face coverings.
---