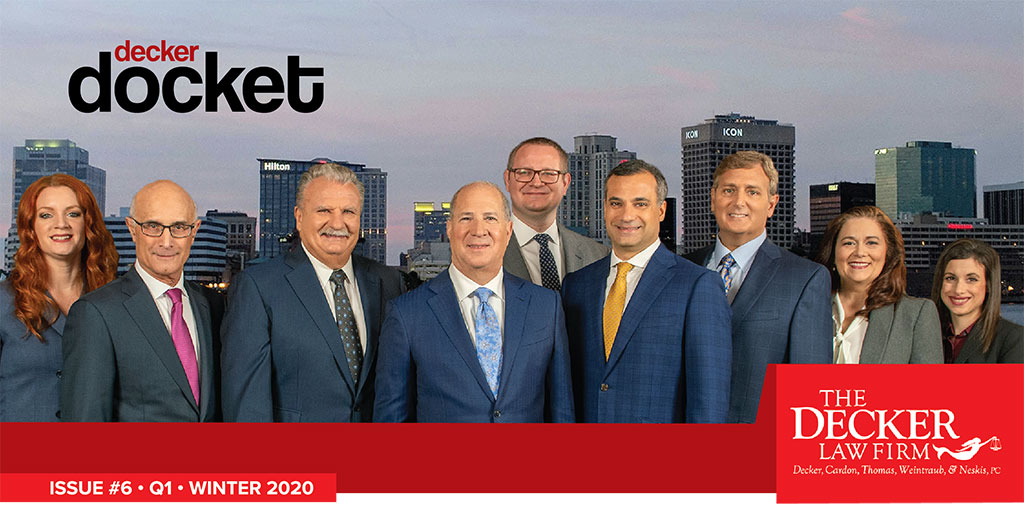 The Decker Law Firm Welcomes Attorney Jennifer Gebler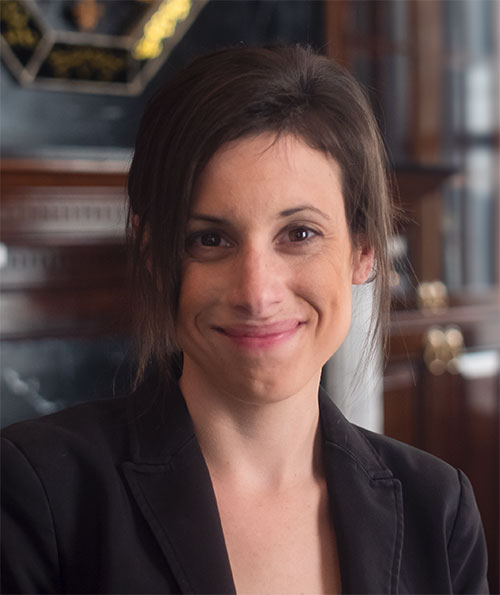 The Decker Law Firm is excited to share the recent addition of Associate Attorney Jennifer Gebler to our team. Gebler is a Norfolk native and a double graduate of Old Dominion University, having received both her Bachelor of Science in Criminal Justice & Human Resources and her Master of Arts in Applied Sociology with an emphasis in Criminal Justice from the school. She continued her schooling at Regent University, where she received her Juris Doctor.
During her collegiate years, Gebler worked at Decker as a Law Clerk. She assisted with researching legal issues relating to cases that were pending with the firm at the time. After her graduation from law school, Gebler worked as an Associate Attorney at Toscano Law Group before moving on to a position with the Norfolk Public Defender's Office. In her position as a Public Defender she handled hundreds of criminal cases – ranging from misdemeanors to serious felonies. The Decker Law Firm shared that they were thrilled to have her back, saying that in her summer as a Law Clerk, her focus and commitment made a serious impact on everyone there.
Gebler, like all Decker attorneys, shares a passion for helping people and making a difference in the lives of the clients. When asked why she pursued a career in law, Gebler replied, "I wanted to become a lawyer because it makes a real-world impact. You can see how your work impacts the lives of others. That part of my job is very meaningful."
Outside of her career at Decker, Gebler loves to spend time with her family and friends. She can be found cozied up with a great book in hand, or out hearing the best live music the 757 has to offer.
George Neskis, a Senior Partner at The Decker Law Firm, welcomed Gebler saying, "Jennifer is a fantastic lawyer who brings an amazing amount of energy, compassion, and experience to the firm. She is bright, hardworking, and inspires confidence in her clients. She is a true scholar of the law. We are thrilled that she has joined the Decker Law Firm."
PhotoSafe in Norfolk
You may not see them, but they see you! The PhotoSafe red light cameras are not new to Norfolk, but the city has recently added a third monitored intersection. These cameras are put in place to help prevent traffic accidents on busy roads, in an effort to keep residents safer. You can find these sensors at St. Paul's Boulevard & Brambleton Avenue, Little Creek Road & Chesapeake Boulevard, and now Hampton Boulevard and Princess Anne Road.
If you run a red light at one of these intersections, the registered owner of the vehicle will receive the notice of violation by mail. This violation is accompanied by a fine of $50 and instructions on how to make payment. This packet also includes a link to their website, where you can review the photo and video evidence relating to the violation. The good news is, these PhotoSafe violations are a civil matter and do not report to the Department of Motor Vehicles (DMV) or the driver's insurance company.
Here's the big question: what qualifies as running a red light? According to the City of Norfolk, "Vehicles that enter the intersection after the light has turned red for .5 or ½ second are captured." The vehicle is photographed 3 times, and a 12 second video captures the vehicle in motion.
The First photo is taken at the stop bar as evidence to show that the light was red prior to the vehicle entering the intersection or passing the stop bar.
The Second photo is the vehicle's license plate for identification purposes.
The Third photo is taken to show evidence of the vehicle proceeding through the intersection while the light is still red. The photographed documentation of the red-light violation is evidence for the police department to issue a civil penalty to the owner of the vehicle.
As you drive through our beautiful city, it is important to remember that a red light means stop! This information may feel elementary, but far too many drivers ignore these basic rules. The Insurance Institute for Highway Safety (IIHS) reports that in 2017, 890 people were killed in crashes which involved a red light running. As part of a series of studies conducted by the IIHS, sources in Fairfax, Virginia reported about a 40% reduction in red light violations after the introduction of such cameras.
Employee Anniversaries
In 2020 we wanted to show a little more appreciation to the incredible staff that keeps The Decker Law Firm running. Without our team's focus and hard work, our attorneys would not be able to help nearly as many people as we do. Whether you have been here for 1 year, or for 40, we consider ourselves so lucky to have you! We will be recognizing and celebrating our staff's work anniversaries quarterly via newsletter, and monthly via social media.
The Census Is Coming!
According to the City of Norfolk website, the city has established a partnership with the United States Census Bureau to lend their support as the 2020 Census approaches. The Census Complete Count Committee is co-chaired by Councilman Thomas R. Smigiel and Councilwoman Angelia Graves, and is comprised of over forty Norfolk residents, business leaders, and organizational representatives including Old Dominion University, Norfolk State University, the Urban League, civic leagues, and business associations.
The members were appointed in May 2019, with a primary goal of encouraging Norfolk residents to participate. Data from the census is used to determine congressional apportionment and redistricting, as well as to distribute over $900 billion across 325 federal spending programs.
According to the city's website, they are also working with the Census Bureau to hire approx. 1,600 people in Norfolk to assist with the Census taking process. The Census Jobs website shows that the pay rate for census takers in Norfolk City is $21.50 per hour.

---
French-ish Onion Soup
---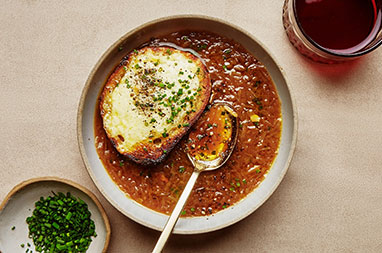 Ingredients:
2 lb. onions (7–8 small ones), very thinly sliced
3 Tbsp. extra-virgin olive oil, plus more for drizzling
Kosher salt
6 garlic cloves, sliced
½ cup dry white wine
4 thick slices sourdough bread
2 oz. sharp cheddar cheese, shredded
Sliced chives and finely ground black pepper (for serving)
Instructions:
Toss onion and 3 Tbsp. oil in a large heavy pot to coat; season with salt.
Cook over medium heat, stirring and scraping bottom of pot frequently, until onion softens, about 10 minutes.
Reduce heat to low and add garlic.
Cook, stirring and scraping pot's surface occasionally, until onions are the color of browned butter (don't worry if they stick in places; a few drops of water and a wooden spoon will release any sticky bits), 20–30 minutes longer.
Add wine and cook, stirring and scraping up any browned bits, until wine is evaporated, about 3 minutes.
Add 6 cups water and bring to a simmer. Season with salt and continue to simmer until flavors meld and soup tastes rich, 10–15 minutes.
Meanwhile, preheat oven to 450°. Place bread on a rimmed baking sheet and drizzle with oil. Toast until lightly charred around the edges, about 10 minutes. Top with cheese and continue to toast until cheese is melted, about 5 minutes.
Divide soup among bowls. Place cheesy toast on top. Sprinkle with chives and season with pepper.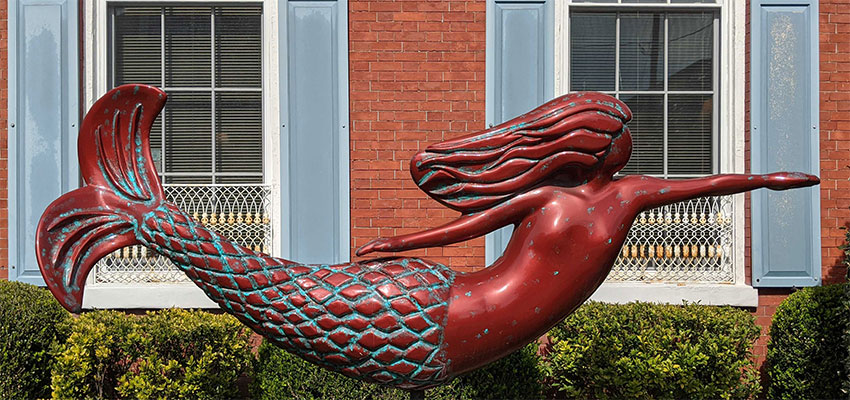 Mujeres Del Mar
This Mujeres Del Mar (Women of The Sea) has found her home at the corner of Freemason Street and Yarmouth Street, near Downtown. Painted by Artist Paul S. Baker, she offers the historic neighborhood a classic and unobtrusive beauty.
Her plaque below holds page 4 of "The Mermaid's True Love, A NorFolktale" – a story spread across our city.
This mermaid statue was sponsored by The Rosemyr Corporation

Norfolk Botanical Gardens
Through June 22nd, 2020
The wildly popular Nature Connects®: Art with LEGO® Bricks is coming to Norfolk Botanical Garden for the first time beginning January 17, 2020 and will run through June 7th. Created with half-a-million LEGO bricks, the award-winning exhibit by New York artist Sean Kenney will feature 13 displays throughout the Garden.
---
Waterfront, Norfolk
March 4th – 13th
On Wednesday, March 4, the unique and majestic 100-year old Norwegian tall sailing ship "HNoMS Statsraad Lehmkuhl" will be making its arrival Downtown Norfolk, docking at Otter Berth next to Waterside District. The ship will provide public visitations during its stay and is scheduled to depart on Friday, March 13. Ship tours are free and open to the public.
March 3rd – 8th
Enjoy shows that reflect our diverse community and spirited audiences in venues large and small, showcasing Norfolk's rich cultural heritage and the performing arts organizations who enliven the scene here. Home to vibrant producing theatre companies, a gifted performing community, and university theatre programs, Norfolk has become a cultural destination for Arts lovers!
---
Norfolk Scope Arena
March 10th – 14th
The Mid-Eastern Athletic Conference (MEAC) begins its 50th year of intercollegiate competition. The MEAC is made up of outstanding historically black institutions across the Atlantic coastline. Each ticket book contains 9 tickets, one for each session, which provides entrance for 1 person to attend all 18 men's and women's games, including the championship finals.
MacArthur Square
March 7th
Help us spruce up Downtown Norfolk! Volunteers are needed to help with replanting tree wells. Assist with cleaning out tree wells and planters, and plant new flowers and plants. Meet at MacArthur Square at 10:00 am for registration and assignments. Wear clothes you don't mind getting dirty and bring extra tools and gloves if you have them.

---
Chrysler Hall
March 31st – April 5th
Willy Wonka is opening his marvelous and mysterious chocolate factory to a lucky few. That includes Charlie Bucket, whose bland life is about to burst with color and confection beyond his wildest dreams. He and 4 other golden ticker winners will embark on a mesmerizing joyride through a world of pure imagination.
---